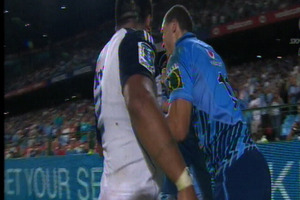 Eden Park staff are continuing to review video footage in an effort to identify the spectator who threw an object at a Sharks rugby player on Friday night.
Hooker Craig Burden was almost hit in the head by an object, believed to be a small rubber ball, when he scored a try in the first half of his side's 29-23 victory over the Blues.
Eden Park general manager of sales and marketing Tracy Morgan said the process of identifying the spectator responsible was continuing today.
"We are reviewing footage and the identification of the person is something we haven't been able to do but we are still working through that,'' she said. "They will be banned from any future games from Eden Park, not just rugby.''
Sanzar, the Sydney-based organisers of the Super Rugby competition, today said they had requested further information from the Blues about the incident, because the initial report from the match manager did not make reference to it.
A Sanzar spokesman said the organisation would be happy to leave the matter in the hands of the stadium if the object proved to be a rubber ball and efforts were made to try to identify and ban the person responsible.
The Blues had given away the rubber balls to spectators before the match in a promotion.
Sanzar chief executive Greg Peters had called for harsh measures to be taken against a Bulls supporter who hit Blues captain Keven Mealamu in the head with a bottle after the match between the two teams at Loftus Versfeld in Pretoria last month. The match was the only one the Blues have won this season.
- APNZ