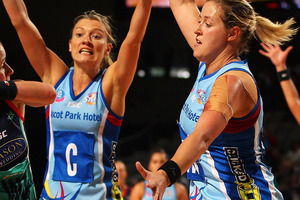 Southern Steel kept cool under pressure in a hectic closing quarter to shut out Canterbury Tactix 55-53 in their trans-Tasman netball league match in Christchurch today.
A high-scoring first 15 minutes left the two teams level at 15-15, with the Tactix midcourt especially impressive as Keshia Grant, Maree Bowden and Anna Galvan moved the ball at pace into the circle.
English international Jo Harten continued to improve, turning and shooting with confidence and looking especially dangerous along the baseline.
The Steel lifted in the second quarter, circle defenders Demelza McCloud and Sheryl Scanlan upping the pressure on Harten and Silver Ferns goal attack Anna Thompson to force the turnovers and edge the visitors out to a 28-26 lead at halftime.
Tactix coach Leigh Gibbs mixed and matched her midcourt in the third stanza, looking to break the Steel's through-court flow, and her team responded to claw another goal back and trail 41-42 at the three-quarter mark.
The long reach and quick hands and feet of McCloud, moved out to goal defence, combined with a more-intensive team effort in defence to push the Steel out to a four-goal lead midway through the final spell.
The height and accuracy of Donna Wilkins and Jodi Brown in the Steel circle eventually proved the difference. Both sank the goals that mattered, shooting at 86 per cent accuracy as Steel withstood a late Tactix surge in the closing minutes.
-AAP