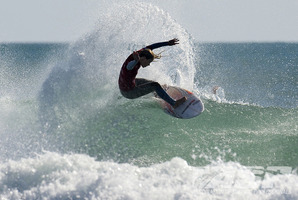 Paige Hareb finished 3rd in New Plymouth today, defeated in her semi-final by current world number 1 rated surfer Stephanie Gilmore of Australia. Photo / ASP, Robertson
Kiwi surfer Paige Hareb has been eliminated in the semi finals of the ASP Dream Tour event in Taranaki.
Hareb has been out knocked out by world number one Stephanie Gilmore.
The local surfer has scored 14.07 but it was not good enough to beat the Australian's 16.44.
Hawaii's Carissa More leads the second semi final against American Lakey Peterson.