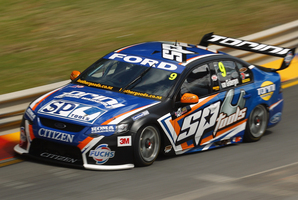 V8 Supercars' most successful outfit, the Holden Racing Team, has pulled a surprise by unveiling a new VE Commodore for James Courtney.
Courtney drove 20 laps of the Winton circuit in country Victoria yesterday ahead of the car's racing debut at next week's ITM 400 at Hamilton in New Zealand.
With the series moving to its Car Of The Future (COTF) regulations in 2013, Courtney's new Commodore is the last to be built under the current V8 rules, which have been in place since the category began in 1993.
"The current cars have served the sport well so it's an honour to be given the last of this generation's cars built by the Holden Racing Team - it's quite special really," Courtney said.
"The car is the same as the previous cars, but it's all shiny and new and, with history on its side, it's a special car.
"We've had 20 good laps today which have all gone well and that's a good sign, so I am looking forward to rolling it out in Hamilton."
The car chassis WR015 is the 15th VE Commodore built by HRT parent company, Walkinshaw Racing, since the VE model made its debut in 2007, with 36 of the team's record 200 race wins coming from the VE Commodore.
Courtney's previous chassis (WR012) will become the team's spare - the first time HRT has had a dedicated, race-ready spare car at call.
It begins a new strategy that the team will carry into the COTF generation in which V8 Supercars intends to include additional events in a more compacted calendar.
As intended with COTF, HRT will build multiple chassis before next season and use them on a rotational basis rather than have just two dedicated cars for its drivers.
The approach will reduce between-event pressures on the team.
Next week's ITM 400 in Hamilton could be the last time the V8 Supercar championship is seen in New Zealand with no announcement yet on a replacement venue for 2013 and beyond.
- AAP