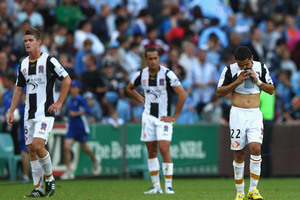 The A-League has been thrown into chaos after billionaire owner Nathan Tinkler's Hunter Sports Group (HSG) announced it is handing back its licence for the Newcastle Jets because of irreconcilable differences with Football Federation Australia.
In a big blow to FFA just days after Gold Coast became the third club to fold in the competition's short history, HSG said it had been forced into the decision after losing confidence in FFA's administration of the game.
FFA thought that it had ensured the 10 teams it badly needs for next season, as it renegotiates the A-League broadcast rights, when it announced it would bankroll a new western Sydney team from 2012/13.
But the Jets' survival now seems to hinge on FFA's ability to find them a new owner for the second time in less than two years.
The Jets administration said they failed to resolve a variety of issues with FFA, including what they considered an unfairly steep A$5 million ($6.28 million) licence acquisition fee, the ongoing Jason Culina insurance saga and continued requests to address the competition's "unsustainable financial model".
"As a keen Jets and football fan this has been a tough decision and I'm aware the impact this will have on members, players, coaches, fans and the entire football community," said HSG chief executive Troy Palmer.
"It's also frustrating to have invested so much time, energy and money to save the Jets for the community at short notice and then continually hit roadblocks at the FFA."
Tinkler's group stepped in to save the club almost 18 months ago when it was on the verge of folding under former owner Con Constantine and claims it has invested A$12 million since then.
HSG said its decision would not affect the Newcastle Knights NRL club, which it also owns.
The company said it would continue to support soccer in the Hunter region by investing in a high-performance academy to develop young players, spending A$1 million annually to encourage local children to play football and propagate the game in the region.
- AAP