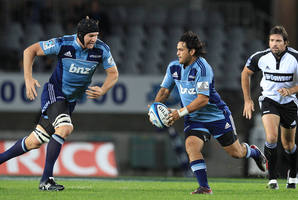 If Mark Hammett ever smiles, he had every right to produce one last night.
Revenge was supposedly the theme as Piri Weepu and fellow World Cup winning back Ma'a Nonu lined up for the Blues against the Hurricanes, whose coach Hammett shipped the pair out in a cleanout after last season.
Weepu looked lost in his starting No. 10 jersey but an early second-half shift to halfback brought the sparkle back to the All Black's eyes.
Blues coach Pat Lam will have taken note.
But in the final analysis, a stray kick and missed tackle from Weepu helped the Hurricanes to their sensational last-gasp victory at Eden Park.
Weepu the halfback was central to a Blues revival. He has an energy and confidence in the position that is missing when he moves out a spot. But this is a disjointed Blues outfit, and that was evident as his late kick needlessly turned over possession, with no chasers in sight, enabling the Hurricanes to score their stunning winning try.
The ex-Hurricanes firm of Alby Mathewson, Weepu and Nonu combined to score the Blues' initial try but Weepu was fended off by Cory Jane for a Hurricanes reply. Revenge was a dish being served in confusion. Nonu's short charge to the goal line was his match highlight, his powerful running not delivered in the doses that Blues supporters would like.
In comparison, there is an exciting, new energy to the Hurricanes, and for all the criticism he inevitably received, Hammett had to do something to change the course of the team's history. Sweeping away a few famous names was essential to the aims of his new broom.
Weepu and Nonu will always be Hurricanes legends, but world sport is full of such characters who struck a time when they had to move on.
And while one match doesn't prove everything, Hammett has shown this season that there was method in what many perceived as utter madness. As for the Blues, two World Cups stars have done nothing to turn their fortunes around. Coach Lam's fate was almost certainly sealed last night. A Hammett-like cleanout is in order.