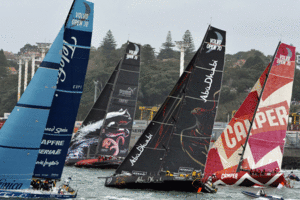 Morale among the Camper crew was high as they left Auckland in leg five of the Volvo Ocean Race today bound for the notorious Southern Ocean, but skipper Chris Nicholson says the lack of it among other boats could be an issue.
The in-port race victory on Waitemata Harbour yesterday played a big part in boosting the mood on the red boat. The crew felt they owed their supporters something after a disappointing fourth place into their home port on the last leg, and they delivered with their first win of the race to sit third overall, only three points behind Groupama and 18 points behind leaders Telefonica.
The Team New Zealand boat built on the feel-good factor by beginning well again today on the 6700 nautical mile trip around Cape Horn to Itajai in Brazil. A big spectator fleet and thousands of people on North Head watched as Sanya, skippered by Kiwi Mike Sanderson, got off to a flyer and took a commanding lead out of the harbour.
Reports tonight showed Camper had taken a slim lead, with Telefonica also a big mover, with Sanya drifting back to third.
Asked shortly before departure if morale was starting to slip among a fleet which has already seen Kiwi sailor Justin Ferris leave the Abu Dhabi ocean racing team after a falling out with a fellow crewman during leg four, Nicholson replied: "For sure, and even for us it's an ongoing point that we're very cautious of the whole way through. We don't get a break from each other.
Our living space is the size of a normal lounge and that's for 11 guys so we have to be careful of it. We're really solid and you can see other teams starting to fray at the edges.
"Even a result like yesterday helps that [morale]. It helps everyone. We're solid but we're still working on staying that way.''
Although it was wrench to swap his comfortable hotel bed for a bunk, Nicholson said he wouldn't want to be on any other boat.
"I woke up this morning and I was questioning how ready I am for it,'' said Nicholson of heading into the Southern Ocean and a weather forecast predicting very rough weather.
"The thing I can take comfort from is that's what everybody else is feeling at the moment. I have a look around at the others and I like our team in regards to being able to go in the Southern Ocean, so if I'm feeling not so good about it, I would say that there's a lot of people feeling a whole lot worse.''
Nicholson described the weather forecast as "not pretty'', and according to race meteorologist Gonzalo Infante a low pressure system to the north east of Auckland is set to intensify as it moves towards the colder waters of the Southern Ocean.
"It's a heat machine right now,'' Infante said. "As it interacts with the cooler air off New Zealand it could generate some big winds - 30 knots up to maybe even 50 or 60 knots.''
One man aboard Camper who will be taking extra care in the heavy conditions is driver and trimmer Tony Rae. The 50-year-old is the medic but it was he who needed attention when cracking two ribs after a fall on the last leg from China.
"It just happened so quickly and this leg will be one of those ones where we do have to be careful of that,'' Rae said before stepping on board. "There's going to be a lot of water over the deck and hard running and long, dark nights, so we are going to have to take extra precaution.
"In some ways the colder legs aren't as bad because you haven't got the heat where even a small cut can be infected.''
Three new sailors have been added to the crew lists for this leg. Anthony Nossiter from Australia is joining Abu Dhabi to replace the outgoing Ferris, while for this leg Finnish Olympic gold medal winner Thomas Johanson takes over from injured Kelvin Harrap on Puma and Danish Olympic gold medallist Martin Kirketerp steps in on Sanya for Ryan Houston who has a kidney infection.
- APNZ