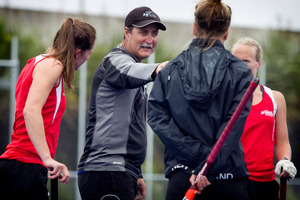 New Zealand 1
Argentina 1
It was one that got away. Goals in the first two and last two minutes left New Zealand and Argentina level 1-1 in the second test of their four-match women's series at the North Harbour Hockey Stadium last night.
While it was a step up from the 4-1 loss the Black Sticks suffered in the first test, coach Mark Hager was left rueing what might have been.
"We should have won," said a disappointed Hager.
"We were just not clinical enough but having said that we are getting scoring opportunities, we just have to finish them off."
A goal down after 1m 44s - rookie goalkeeper Amelia Gibson blocked the first shot but could do little as Delfina Merino scooped the rebound high into her goal - was not the start the Black Sticks wanted.
They quickly shrugged off that early blow to give as good as they got - at times better - in asking questions of the world champions.
The home team forced the only three penalty corners of the first spell and the only two in the second half but failed to come even close to converting.
The Argentinians controlled the midfield with the world's best player Luciana Aymar, in her first outing of the series, showing why she is so highly regarded.
Her impeccable ball control and vision sets her apart but a well-organised New Zealand defence were alert to the danger restricting their higher-ranked opponents to few clear scoring chances.
An aspect Hager was well-satisfied with.
"Our emphasis in this series is on our defence and I thought we did well in that," said Hager. "And, on attack we are creating opportunities."
The Black Sticks' late equaliser came from a super move with Krystal Forgesson and Katie Glynn providing the build-up and Cath Finlayson the crashing finish.
That goal came a minute after Carla Rebecchi had broken clear and should have sealed it for the visitors but Gibson charged out to force the Argentine away from goal and shoot wide.
The third test will be played at Lloyd Elsmore Hockey Stadium tomorrow and the final test is back at North Harbour on Saturday.