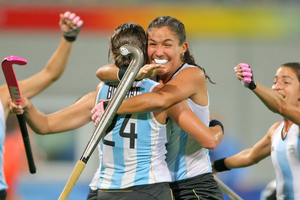 World number two Argentina continued their form from this year's FIH Champions Trophy last night, winning the first of four tests 4-1 against the Black Sticks Women in Auckland.
Argentina's captain Rosario Luchetti and then Daniela Sruoga scored two goals within the first 12 minutes, the first of which was an almost unstoppable drag flick into the roof of the net.
In wet conditions, the first half was scrappy with the Black Sticks at times struggling to push through Argentina's defensive line.
The Black Sticks were awarded two penalty corners in the first half but were unable to convert, and it was Auckland's Julia King who helped get the Black Sticks back in the game in the 17th minute with a field goal.
A goal mouth scramble following a penalty corner saw Argentina score their third goal in the 25th minute with Delfina Merino scoring from close range.
The Black Sticks started the second half with confidence, on both attack and defence, including when co-captain Emily Naylor had a superb stick save from a penalty corner which saw the ball go high over the net.
However, Argentina continued their domination and six minutes into the second half, the fourth goal was scored when a raised shot across goal was deflected in by Luchetti at close range who, moving at pace, then collided with goal keeper Sally Rutherford, resulting in Luchetti limping off the field.
Despite the Black Sticks penetrating the circle numerous times throughout the second half Argentina was too strong on defence with their goalkeeper Laura Del Colle being called upon to make numerous saves.
Black Sticks coach Mark Hager said that too many of the one-on-one battles were lost and that although players are feeling the pressure of Olympic selection, he says now is the time to step up and give it their best performance.
"Argentina is a strong team and that is why it is so good to play them, because you can see where our weaknesses are and identify what we need to do to make the necessary improvements," he said.
The second test is at North Harbour Hockey Stadium on Wednesday.