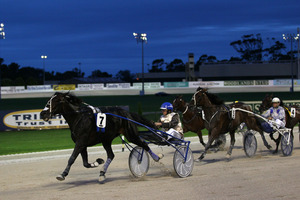 Champion trotter I Can Doosit could yet get his chance to take on the world after another record-breaking victory at Alexandra Park last night.
The dual Interdominion champion smashed the national 2700m standing start record when he came from a 40m handicap to beat Raydon in the $30,000 City of Sails Trot.
He adds that to his national 2700m mobile record as he rapidly approaches $1 million in stakes, a level only obtained by three New Zealand trotters before.
One of those was the mighty Lyell Creek, who went on to race with distinction against the best in the world and now owner Ken Breckon is saying I Can Doosit could be given his chance to do the same.
Breckon first suggested the idea after I Can Doosit had won his second Interdominion in Melbourne last month but trainer Mark Purdon was keen to stay closer to home, where if he stays sound for two more seasons I Can Doosit could become a $2 million earner.
But Breckon says he would still love to see I Can Doosit in the United States.
"Maybe it's my competitive instincts but I think he would be up to them and I'd love to give him the chance to prove it," said Breckon.
"So we will get through this season first and see what happens but it is a dream worth having."
I Can Doosit left little room for doubt that he has the measure of any trotter in Australasia by thrashing Raydon last night even after giving him a 15m start.
He was still a long way off the pace with 1400m to run but jogged clear at the top of the straight after looping the field.
He is simply a horse in the zone at the moment and it is hard to see him being beaten again this season.
He wasn't the only record performer at Alexandra Park last night as Five Card Draw equalled the national 1700m two-year-old mark when he came from near last to edge out Ohoka Punter in the $100,000 Cardigan Bay Stakes.
The race was set up by an unfortunate speed burn early from favoured stablemates Star Of Van Gogh and Slick Chapel, with the latter taking the lead from his more favoured stablemate when he became uncontrollable for driver Peter Ferguson.
That saw them spent forces on the home bend and Ohoka Punter looked the winner until Five Card Draw lunged late.
Earlier in the evening, trainer Sean McCaffrey got one of his biggest wins when La Norvic De Milo came from off the speed to win the $80,000 Delightful Lady Classic.
She is a daughter of Art Major and former smart filly Belletti, who finished second in a Sales Series Pace for McCaffrey.