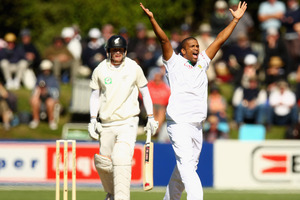 Dale Steyn, world's No 1 test bowler; Morne Morkel, No 9, tall, awkward, always making life difficult.
Both have form and reputation.
But what about the third leg of South Africa's pace trio, Vernon Philander?
He arrived in New Zealand specifically for the test series and immediately showed how he has earned hot reviews since making a spectacular debut against Australia in November.
Philander's four for 50 on Thursday was the eye-catching turn among the South African bowlers. He had 22 taken off his only over yesterday morning, courtesy of tailender Trent Boult's clean hitting over the mid-wicket boundary but there was enough evidence the day before that the 26-year-old will be a handful throughout this series.
Philander is not express pace, more a lively 135km/h. He's not particularly tall but is strongly built. He's accurate, seams the ball both ways off the pitch, and is relentlessly at the batsman.
There's no let-up.
"He's certainly going to pose a few threats over the next two games," New Zealand batsman Brendon McCullum said.
Philander is no stranger to New Zealand players. He was the matchwinner in an Emerging Players tournament final in Brisbane in late 2007 when he hit 59 off 50 balls then took three for 20 to carry South Africa to an 82-run win.
South African schools captain and under-19 national representative, Philander was rated hugely promising as a teenager growing up in Bellville, a suburb of Cape Town.
His arrival in the South African side for the world T20 in 2007 was controversial. Philander was chosen ahead of the great Jacques Kallis and the whispers were strong that the then president of Cricket South Africa, Norman Arendse, had a hand in his promotion.
The old heads in the team were wary of the young man, forever chewing gum and armed with a distinct swagger.
His form was ordinary, he was carrying too much weight and despite taking four for 12 on his ODI debut against Ireland, was dropped from the Cape Cobras team in 2009, sent down to the second tier amateur side.
Philander wasn't happy, but in hindsight that might be seen as a turning point in his development.
He took a bundle of wickets, got back into the Cobras and when he made his test debut late last year against Australia was ready to make a statement.
He took a man-of-the-match-winning five for 15 as Australia slumped to 47 in the second innings on Philander's home ground, Cape Town. There were more five-wicket bags in the second test and the first against Sri Lanka.
Halfway through his fifth test, in Dunedin, he has taken 34 wickets at a stunning 13.79 each.
A clue to his self-belief came after that Cape Town performance. Asked if he felt he could replicate his success away from his home ground, Philander replied: "With my skills I could bowl anywhere in the world."
Eyebrows were raised at the newcomer's cheek, but he's backed it up.
Morkel simply called Philander "a freak".
"He's consistent with the ball, he's got the ability to move it both ways, he's got a slippery bouncer and he's a very tough guy to face with the new ball," Morkel said.
Morkel has an idea on why Philander has been so successful.
"He's a guy that's trying to keep it as simple as possible, to land it in a very good area and let the ball do the talking.
"He has unbelievable body language. He puts in the hard yards and we all know that if you put in the hard yards you'll get the results."
Philander certainly knows it.