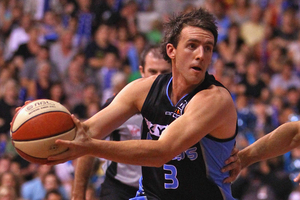 The New Zealand Breakers this morning confirmed the re-signing of guard Daryl Corletto on a two-year contract, after the player broke the news on Twitter last night.
"Ok so I will be playing for the Breakers for the next two years. Pretty happy about that. Great club. Time to get a championship this year,'' he told his followers.
Corletto arrived late in the pre-season on a one-year deal after parting ways with the his lifelong club the Melbourne Tigers in acrimonious circumstances. Putting that departure behind him, Corletto is enjoying a career season, not only posting great numbers but holding on to a starting role despite the return of CJ Bruton from a knee injury earlier in the season.
He said he was delighted with the new deal.
"I just couldn't be happier to be honest, this has been a great season for me and I feel like I am playing at a great club, one that I want to end my playing days with,'' he said.
"I guess there was some uncertainty when I first came over but even then I knew of the club's reputation for looking after players and welcoming everyone into the Breakers family. That reputation has proven to be right on the money, this is a great organisation and one I am proud to represent.
"Negotiations were easy, I wanted to be here and it seems as though the feeling is mutual, the club was keen to keep me. It is great to have this done at this stage of the season so there are no distractions as we head to the end of the regular season and concentrate all our efforts on Adelaide this weekend.''
The 30-year-old has indicated a desire to play until he is 34 or 35 and will reassess those aims at the end of the newly-inked deal but clearly has a view to stay in New Zealand until he calls it a day.
"Sometimes things happen for a reason, you don't always see that at the time but moving to the Breakers has been great for my career and I have to say for me in the sense that I am enjoying my basketball like I haven't done in a long time. I am playing for a great coaching team and with a great group of players and support staff. Why wouldn't you enjoy this?''

- APNZ