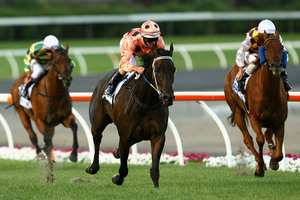 A clash between British champion Frankel and Australian superstar Black Caviar may still be unlikely, but Frankel's trainer Sir Henry Cecil says he is up for the challenge if the moment ever arrives.
Frankel is the highest-rated horse in the world ahead of Black Caviar with both horses yet to taste defeat.
Black Caviar, with 19 wins to her name, is being aimed at the Diamond Jubilee Stakes (1200m) at Royal Ascot in June. It would be her first appearance in the Northern Hemisphere.
Frankel is preparing for the European racing season and while Cecil said it would be lovely for the two to clash at some stage, he also said he would not alter plans with Frankel just to see it happen.
"Of course I would look forward to the challenge," Cecil told Sydney's Sky Sports Radio. "I think it would be fantastic but I must do the right thing for the horse.
"I'm certainly not bringing him back to seven furlongs. He's settling now and the idea is that he's going to go on to a mile and a quarter. If I wanted to at some stage keep him to a mile and she wants to up it to a mile and come over, it would be lovely."
Cecil said he had seen footage of the Peter Moody-trained mare Black Caviar racing in Australia.
"She's got the most lovely temperament and way about her."
A race which could be considered for a possible clash is the group one Sussex Stakes over 1600m at Goodwood on August 1, should Black Caviar remain in England that long after Royal Ascot.
Frankel is expected to kick off his campaign in the Lockinge Stakes in May.
Cecil believes the winner of all his nine starts could prove to be even better in the coming season having grown up a lot. "He's done marvellous so far but I think he could be a better horse this year."
Cecil said 2012 was likely to be Frankel's last year of racing before he goes to stud.
- AAP