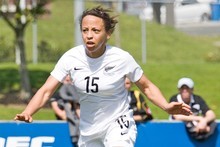 An 82nd minute strike from Sarah Gregorius has seen the Football Ferns secure a 1-1 draw against the Korea Republic to finish second in their group at the Cyprus Women's Cup.
The Ferns fell behind to a 38th minute goal - the first conceded by New Zealand in the tournament - but forced a turnover high up the pitch to allow Gregorius to level the scores and keep hopes alive of a win which would have seen them leapfrog the Koreans at the top of Group C.
A lopsided three pool format which favoured teams in Pool A and B was amended ahead of the final pool game but an unbeaten New Zealand can still only finish as high as seventh, playing off against the Netherlands - the third place team from Group B - at 1am Wednesday morning (NZT) for that honour.
Group C winners Korea Republic play off against Finland - the third place team from Group B - for fifth place. The other group winners, France and Canada meet in Wednesday's final.
Coach Tony Readings took heart from a positive result against higher ranked opposition and praised his side's miserly defence which has so far conceded the equal fewest goals, along with France, in the 12 nation event.
"We always want to finish as high as we can, but for this tournament that is secondary to putting in the performances we need to achieve want we want at the Olympics later this year," Readings said.
"It looks like we have the Dutch on finals day - they are another testing European side and we'll be looking for another step up in performance.
"We have defended really well in this tournament and even today the goal we conceded was from an under-hit backpass so teams have not been able to break us down.
"We've only conceded one goal in the tournament and both keepers we've used have been great. We've played with a lot of composure at the back and we're now combining with the attacking ability further forward."