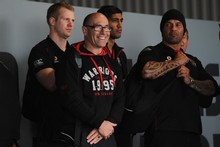 John Ackland has become an expert at rebuilding squads but the Junior Warriors coach insists it is all part of the job.
There has been the usual exodus of talent this season, with seven of his under-20 side promoted to first grade, as well as other players leaving for Australian clubs.
Expectations could not be higher, with his team aiming for a hat-trick of Toyota Cup titles.
"It's a long season," says Ackland, "and there is always time to build. You can experiment with the team, plays, systems and structures. We will have a big squad [about 27] and want to play as many as we can early in the season. It is about giving them an opportunity but also building depth, so we can handle the slings and arrows of outrageous fortune and injury that will come our way during the year."
While he has lost key players - including Konrad Hurrell, Sione and Sam Lousi, and captain Ben Henry - Ackland points out that he has, for the first time in memory, retained the spine of the team - both hookers, the halfback and fullback will go round again in 2012 while five eighth Carlos Tuimavave is still eligible despite being promoted to Brian McClennan's NRL team.
And for Ackland, fashioning a new team is a challenge he relishes.
"People talk about it being a big challenge but it is not that hard," he says. "We are dealing with highly motivated individuals who are completely focused on their sport. Hard is running a club team when you get 13 guys turning up to training and plenty going on off the field."
The Junior Warriors have dominated the competition over the last two seasons, but Ackland dismisses the idea that the Auckland club will always have an advantage, due to the vast tracts of junior talent across New Zealand league.
"If you look at Penrith they have twice as many juniors as we have in the whole of this country," says Ackland. "And Parramatta has another 50 per cent on top of that."
This year's team, who face Manly today, will not have the size of previous editions, when the Lousi brothers terrorised opposition defences, but plenty of speed.
"We have some real flyers in the outside backs," says Ackland. "The sort of kids that were sprint champions at school. We hope to get them the ball and let people watch the back of the heels."
By Michael Burgess

Email

Michael