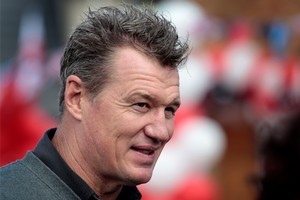 All Black legend John Kirwan will coach the Barbarians in a three-match international tour.
Kirwan, previously in charge of Italy and Japan's coach at last year's World Cup in New Zealand, will be in charge of what is set to be a star-studded squad for the non-cap internationals against England, Ireland and Wales.
The Barbarians are rugby union's most famous invitational side and their most celebrated win came back in 1973 when they beat New Zealand 23-11 in Cardiff, with Wales great Gareth Edwards completing a length of the field move for one of the sport's most acclaimed tries.
It was a match the 47-year-old Kirwan, who scored 67 tries in 96 games in total for the All Blacks, remembers well.
"As a boy I got up in the early hours of the morning to watch the All Blacks against the Barbarians when Gareth Edwards scored that awesome try in 1973,'' he said in a statement issued by the club on Tuesday.
"It inspired me to want to be the best and it was my dream as a player to be a Barbarian.
So the honour of being invited to coach them will be one I will remember forever.''
Kirwan, a World Cup winner with New Zealand in 1987, added he was looking forward to working with a talented group of players for the May/June fixtures.
"The Barbarians are putting together a very strong squad and our goal on this great tour against England, Ireland and Wales will be to inspire young people to play with flair, ability and passion.''
Meanwhile Barbarians secretary Alan Evans said: "The Barbarians defeated England, Ireland and Wales in their most recent encounters against them and we are very conscious that each of them will be keen to gain revenge this (northern hemisphere) summer.
"With that in mind, we are in the early stages of assembling a very strong squad to meet the challenges ahead.
"Shane Williams will be making what will be his final representative appearance for us against Wales and also in the squad will be another Welsh record-breaker, Stephen Jones.
"The match at Twickenham will be an opportunity to field Lewis Moody and Ian Balshaw against England, and from further afield we have recruited Joe Rokocoko (New Zealand) and Cedric Heymans (France).''
Barbarians fixtures
May 27: v England, Twickenham
May 29: v Ireland, Gloucester, England
June 2: v Wales, Millennium Stadium, Cardiff
- AFP