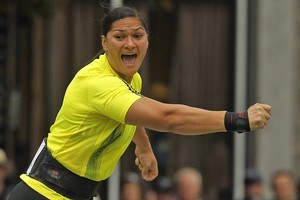 Olympic shot put champion Valerie Adams continued her build up to March's world indoor championships with a couple of strong throws at the Porritt Classic in Hamilton on Saturday.
After a shaky start, Adams was out to 19.75m on her third throw before turning it on in round four, finishing with throws of 20.13m and 20.09m.
"That was a better series than I had in Christchurch," Adams said. "Our training is not conducive to big throws, because at the moment our aim is the world indoor championships."
Her coach Jean-Pierre Egger said he was very happy considering Adams' throws in excess of 20 metres were better than the second place mark at last year's world outdoor championships in Daegu. "But we must be better and we will be better," Egger said.
Adams will seek to regain her indoor crown from rival Nadzeya Ostapchuk again in Istanbul on March 10. Adams won the 2008 championships, but Ostapchuk triumphed two years ago in Doha.
Adams' next meeting is in Sydney this weekend, and then it is back to Switzerland with Egger to continue her build-up to the indoor championships and the London Olympics.
Meanwhile, Stuart Farquhar opened his campaign for the London Olympics by sending the javelin out to 80.95m in his first competition of the season.
"I really had no idea what I would do," Farquhar said. "I'm training really well lately, a lot of heavy training, so it is good to get over 80 metres".
He hopes to step up his throwing in his next competition in Melbourne March 3. "[I want to] get the whole run up right and be able to apply the forces better."
Another highlight at the Porritt Stadium meeting was a personal best high jump by Elizabeth Lamb at 1.90m, just 2cm short of Tania Murray's New Zealand record, and 5cm off qualifying for the London Olympic Games.
Lamb, who also broke Angela McKee's Auckland record with the jump, said that she had some anxious moments in the competition.
"I was really hoping for a PB. [I] couldn't ask for any better conditions, so once I got 1.87m I knew I could get 1.90m. I'm very excited to know I could go through for the New Zealand record."
- APNZ