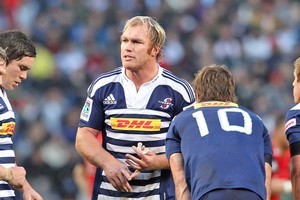 South Africa's Super 15 rugby sides are insisting on expanding the league to 16 teams after officials here mooted the idea of sending another team, the South African Rugby Union (SARU) said today.
SARU denied local media reports that the teams had threatened to boycott the southern hemisphere championship in 2013, but acknowledged friction with the five current teams over plans to include newbies Southern Kings.
"No threat of a boycott was made," SARU chief executive Jurie Roux said in a statement.
"But the franchises have made it plain that the only option to them is the expansion of Vodacom Super Rugby. They also pledged their support for the Kings' inclusion in 2013 as well as for SARU's efforts to persuade SANZAR (South Africa, New Zealand and Australia Rugby) to include a sixth South African franchise."
The statement came after weekly newspaper Rapport said the five teams - Central Cheetahs, Coastal Sharks, Golden Lions, Northern Bulls and Western Stormers - had written to SARU president Oregan Hoskins threatening to boycott the championship.
Kings hail from the Eastern Cape, the South African province with the most black rugby players, and the bid to include them in the Super 15 has become a political hot potato in a country where the sport has historically been dominated by whites.
The current Super Rugby sides fear Kings' inclusion will come at their expense.
SARU said their letter to Hoskins stated it was "imperative... that SARU as custodian of the South African leg of the tournament will ensure that the Kings are included without prejudice to any of the existing franchises".
The championship currently comprises five sides each from Australia, New Zealand and South Africa.
SARU deputy president Mark Alexander said last month South African officials would lobby their SANZAR partners to expand the contest to 16 teams.
SARU said Sunday that it had decided to delay the decision on how to choose its entrants for the 2013 championship until its annual general meeting on March 31 to allow time for further discussions with SANZAR.
- AFP