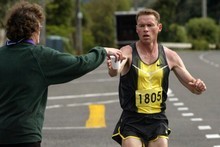 Nelson runner Phil Costley fell just nine seconds short of yet another record but still did enough to win the half marathon at the Buller marathon today.
Costley, who already holds the open half and full records at the event, blitzed the field to to win the half by seven minutes, but Eddie Gray's veteran's record of 1:07:04 barely stayed in tact.
Costley was one of almost 3000 runners and walkers to face the starter's gun in the 30th edition of the annual event. The field to run through the scenic route down the Buller Gorge included a number of international runners, from as far afield as Switzerland, South Africa, the United States and Malaysia.
The men's full marathon went to Simon Marsden of Nelson with an excellent time of 2:30:56. Second place went to Graeme Taylor, also of Nelson, while Simon Leaning in third place completed a Nelson trifecta.
Nelson was also to the fore in the women's full marathon where Nelson runners Paula Canning and Klaartie Van Schie finished 1st and 3rd, separated by Christchurch's Rachel Jameson.
The women's half marathon was taken out by Sarah Biss of Rotorua, who had a minute to spare from Alexandra Williams of Christchurch and Annabelle Latz of Rangiora.
The half marathon walking events went to Peter Ryan of England and Maureen Metcalfe of Blenheim, while the full marathon walking events went to Albie Jane of Stratford and Christine Leahy of Wellington.
- APNZ