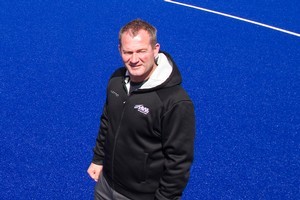 The pace is picking up for the Olympic hopefuls in the New Zealand men's hockey squad. From the 27 players who will get game time in this week's five-test series against the sixth-ranked Koreans, coach Shane McLeod will eventually name his 16 for the London Olympics.
The Black Sticks warmed up for the matches against the team that is ranked one place higher than them with a series of non-official matches against Japan.
New Zealand won three, lost two, and drew one of the six matches - the third was drawn 2-2 - but McLeod admitted his players were "a bit rusty".
There will be no excuses when the pace picks up in the Korean series.
"We need to ask more questions of the players," said McLeod. "We are back into a test environment [against Korea] and have our sights firmly set on the Olympics. Against Japan we were more concerned about the way we played rather than the results."
All the Black Sticks players are in Auckland this weekend including goalkeeper Kyle Pontifex who did not play against Japan.
McLeod said he expected the Koreans to be much tougher.
"They have been in the top six for a long time and will be much more patterned in their play than the Japanese."
After the matches against Korea, New Zealand players will be restricted to mainly weekend camps until April 16 when 25 players will be centralised in Auckland.
Three weeks before the Sultan Azlan Shah tournament in May, McLeod will name an 18-strong squad which he says should be 85-90 per cent of the eventual Olympic team.
"We will then play three tests against Australia in Australia in late June after which we will name the 18 players who will go to Europe for final preparations," said McLeod.
"After matches against Belgium and Holland in Belgium and Spain and Germany at the Olympic venue, we will select the 16 for the Olympics."
NZ v Korea
(all Lloyd Elsmore Hockey Stadium)
Today: 1.30pm
Tomorrow: 1.30pm
Thursday: 6.30pm
February 11: 3pm
February 12: 3pm.