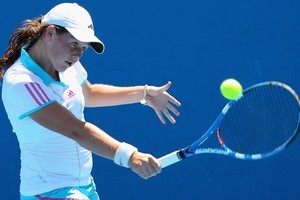 New Zealand's top-ranked junior, Emily Fanning, lost both her first round singles and doubles matches at the Australian Open yesterday to end New Zealand's involvement at the year's first grand slam.
Fanning, ranked 48 in the ITF junior rankings, was beaten by junior world No 13 and eighth seed Anna Schmiedlova 7-5 6-1 in one hour and 29 minutes in hot conditions.
She had opportunities in a topsy-turvy first set - Fanning won four out of nine break point opportunities in the match, while Schmiedlova managed seven out of 13 - but the powerful Slovakian proved too good.
"I had a point to go 5-3 up and there were some missed opportunities in the first set, and ran out of fuel in the second set,'' the 16-year-old said. "I thought in the first set I was giving her a bit of grief with my game and coming in to net and she hated it. We were both struggling with the heat I think when it came down to it she was able to win the big points in the first set and got the momentum in the second set.''
Fanning and American partner Julia Elbaba lost to Olga Doroshina (Russia) and Christina Makarova (USA) 6-1 6-4 in their first round match.

- APNZ