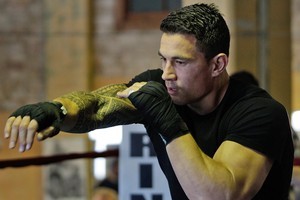 The New Zealand Professional Boxing Association heavyweight title will remain vacant if Clarence Tillman beats Sonny Bill Williams.
Tillman, an American, has a New Zealand work permit but is not yet a resident, which makes him ineligible for the title to be contested at Claudelands Arena in Hamilton on February 8.
Pat Leonard, the national secretary of the NZPBA, yesterday confirmed the eligibility issue but added Tillman would be welcome to challenge for the title if he became a resident.
Leonard said if that was the case his opponent would probably be Joey Wilson, a 32-year-old from Auckland who beat Tillman in a split decision over six rounds in 2010.
Tillman, 34, is a late change of opponent for Williams after it was revealed to fight promoters that Richard Tutaki was facing serious charges including possession of methamphetamine and drug utensils.
Tillman is a step up for All Black Williams, who has faced four carefully selected fighters for four easy victories in his professional boxing career. Tillman, a former professional footballer who weighs about 127kg and stands 1.96m tall, beat Tutaki in a split decision last year.
He said he was aware of the residency issue and accepted it. "That doesn't matter to me,'' he said. "I would give the title up. There are guys here who deserve it.''
The New Orleans-born Tillman, who has a professional record of 11 wins, eight losses and two draws from his 21 bouts, settled in Auckland after travelling to the city for a fight against Junior Pati in 2010.
"I'm gonna beat the hell out of this dude [Williams],'' Tillman said. "He can't fight, he doesn't know what he's doing. I saw his last fight with Alipate [Liava'a].
"He was throwing punches and he was spinning around, turning his back. Like, who does that? When they told me that they chose me [as his next opponent], I felt disrespected almost. I was actually surprised that he was going to fight Tutaki. I think Richard would have beaten him or at least gone really close.''
Tillman, who had been training to fight former league player Solomon Haumono in Australia when he was given the option of the Williams fight, said he was in good shape.
"I haven't done this much running since my football days,'' he said.

- APNZ