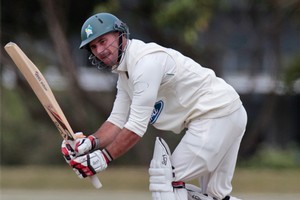 Never stop living the dream was Kruger van Wyk's edict when he spoke to the Hawke's Bay Today about this time last year.
"The day you stop wanting to play internationally is when it becomes a dangerous time in your career,'' the South African-born Central Districts wicketkeeper had said. "I still dream of playing for the Black Caps. I'm always giving it my best shot and hoping for the best.''
His best might soon give him a shot after he was yesterday named in the New Zealand and New Zealand XI squads along with BJ Watling.
"Look, I'll be really excited when I see my name on the team sheet just before the game is ready to start,'' the 32-year-old said.
While careful not to get too far ahead of himself, Van Wyk emphasised yesterday's developments were a culmination of five years of "quietly'' chipping away to acquire excellence with the gloves and the bat.
Although built like a jockey, Van Wyk is a bloke who doesn't let size faze him. Enjoying wearing the physical underdog tag, he relishes trying to outperform by being "big in the fight''.
"I think we start coming into our prime as wicketkeepers by the time we are 30 or 31,'' he said, fancying his chance against Watling.
He had no qualms about having to open the batting, which he will be asked to do against Zimbabwe in the warmup game, taking pride in his all-round abilities.
"I don't care where I bat. If John asks me to bat at No 11 or as an opener it doesn't bother me. I'm just happy to play for the Black Caps wherever he wants me to because, at the end of the day, it's just a number.''
The middle-order batsman is a hard grafter, prepared to occupy the crease for lengthy spells. His patience makes him an ideal candidate not just to take the shine off the new cherry but also to rotate the strike as he darts between the wickets like a fox terrier. His batting is something he's worked extremely hard on.
He was expecting to catch up with Wright in Gisborne after the Twenty20 campaign ends for CD tomorrow night at Pukekura Park to discuss exactly what the Black Caps coach wanted from him and where he should fit into the international equation.
Van Wyk is loath to see himself as a wicketkeeper who can bat or vice versa. He sees himself as an all-rounder who fulfils both tasks to the highest standard.
Former Wizards coach Dave Nosworthy remains his biggest influence, mentoring him from the age of 16 in his hometown of Pretoria.
It was initially tough for Van Wyk to move to Christchurch in 2006-07 and leave his parents.
He represented South Africa A, a President's side and a Rest of South Africa team. He also captained a South African Academy outfit.
For someone who traditionally heads off with his wife to Scotland to ply his trade there in the northern summer and engage in management studies at a college, Van Wyk hadn't given much thought to their migratory pattern this summer yet.
That might come down to what happens in the next few weeks.

For more articles from this region, go to Hawkes Bay Today