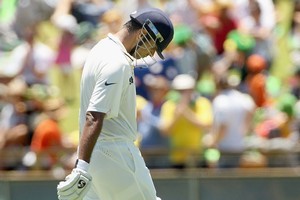 Aussie opener David Warner's big innings at Perth was a stunner but my guess is that the great test bowlers of old would quickly expose his swashbuckling technique and force serious changes to his approach.
Warner is fortunate that he is in a below-par test era, and is also playing against an Indian team which - while retaining a lot of potential - aren't consistently up for a fight in the four-game series.
India, with a potentially sensational batting line-up, have been desperately disappointing for much of the series so far although Warner was almost a one- man band against them in the first innings at the Waca Ground.
Test cricket is not in good health. T20 has torn at the standards, and opened the way for a master slogger such as Warner to prosper. There are no bowlers in world cricket today to match the true legends, men such as Dennis Lillee, Richard Hadlee, Wasim Akram, Muttiah Muralitharan, Shane Warne and co.
Full marks to T20 star Warner - his 180 made for wonderful viewing and he can only play what is in front of him. But let's be realistic - world test standards are low and if India are anything to go by, even legendary play-ers have had their concentration and class diminished by the T20 avalanche.
Anybody willing and able to prey on Warner's weaknesses had better be quick, however, because an hour of Warner can radically alter a game. He plays a full range of shots with such conviction and bat speed.
So what might the Warner effect be if his onslaught does continue?
Former New Zealand opener Mark Richardson is bang on the mark in his Herald on Sunday column when he suggests young and old should develop proper batting techniques before launching themselves down the Warner path. But a lot of kids will already be going for the jugular, Warner-style, because youngsters are attracted to the brightest flame. Stand by for a few more broken windows, whatever the cost.
Should have gone to Specsavers
The most useless camera angle in sport is cricket's stump cam, which turns pivotal moments into an indiscernible whirl of dirt and sandshoes.
Apart from a snooker table pocket, there are few more pointless places one could stick a highly valuable sports camera.
But cricket will keep trying, and - as Sydney's Telegraph reported over the weekend - an optician who clearly has too much time on his hands has figured out a way to stick a camera lens in the glasses worn by umpires in Aussie cricket's Big Bash. While the newspaper breathlessly heralds the news, the initial demonstration of sunglasses-cam did not look overly promising, judging by the video available on the newspaper's website.
The viewing quality looked akin to driving a car with bad wipers through the pouring rain.
Umpires, like a lot of people, also have the annoying habit of moving their head around and up and down. Unless the umpires are jammed into neck braces, this glasses-cam bizzo is going to reach dizzying lows.
While we're on about Aussie cricket coverage, it is setting new standards of uselessness when it comes to the art of running surveys.
Polls are a dubious gauge of public opinion at the best of times, open as they are to all sorts of manipulation, bugbears and misinterpretation.
Asking the Aussie sports public questions such as "Will Australia beat the s*** out of India before tea time?" is as informative as sticking a camera up an umpire's nose.
Oh behave!
Sonny Bill Williams just can't stay out of the news. A weekend story included the attention-grabbing factor that he had - unlike a couple of other spectators - behaved at the Auckland tennis tournament. This has taken the SBW news value to new levels.
SBDub shoots from lip
Speaking of SBDub, our man with the golden arms appears a touch distracted from a rugby point of view, devastated as he is to find that his next scheduled boxing opponent Richard Tutaki is unavailable due to the long arm of the law. Sonny Bill did his bit for the circus, claiming "the cops got to Richard before I could". Nice quote in the finest tradition of boxing quotes. Brave words also, although my pick is the first decent boxer SBDub comes up against will catch up with the pseudo pugilist good and proper. SBDub will be a sitting duck for a decent pro. And even if he retains his senses, the Chiefs will be lucky to get full value out of our hero this season, such is his busy life.
Magic moment
Comeback star Paul Scholes stroked in the vital opening goal for Manchester United against Bolton at the tender age of 37. Scholes was near-immaculate in the match and this might be one of those rare return-from-retirement stories with a happy ending.