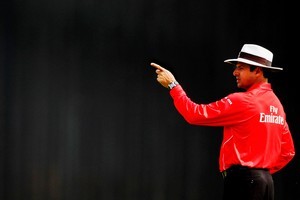 Forget MS Dhoni and his megalomaniac Indian Cricket Board thumbing their noses at the International Cricket Council's (ICC) desire to implement the Umpire Decision Review System (DRS) because our very own cricket authority has gone a little renegade as well.
New Zealand Cricket has introduced its own version of the DRS which goes against the way the ICC want it administered.
Instead of captains and batsmen being able to call for reviews of decisions, in our cricket, it's the umpire who can ask for assistance from the third umpire and the available technology for any decision at any time.
It's only for televised HRV Cup games (domestic Twenty20) and let's be realistic about this - neither the ICC nor any other cricketing nation gives two hoots about New Zealand domestic cricket and no one other than Sky TV is charitable enough to broadcast our domestic product. Regardless, I say good on you, NZC.
With no DRS in use over in Australia right now, the umpires are being hung out to dry. Dhoni is trying to justify his stubbornness by using that old chestnut that umpires are only human but that does not stand any more when they can in fact be superhuman with the amount of assistance they have at their disposal.
At least our cricket officials are prepared to offer the use of whatever technological assistance is available in televised games here to aid our umpires to be better.
There is, however, a dangerous flaw in the way NZC is implementing this system. In placing the power of whether or not to call for third umpire assistance solely in the hands of the umpire, you increase the likelihood of umpires beginning to question themselves for fear of being wrong.
This could lead to LBWs and catches being like run-outs and stumpings where, more often than not, they get referred to the third umpire.
In the last game I worked on, I saw a simple LBW reviewed by the umpire even after he gave it out and should therefore have been in no doubt in the first place.
Where did the doubt come from? Was it in his own head or was it put there by the players' reactions?
Umpire decision-making is an integral part of the entertainment, as is the use of technology in reviewing those decisions but, if every decision was left up to technology, that part of the game would become mechanical and boring.
Financial realities mean HRV Cup games have fewer cameras in operation, no Hotspot, Snicko and Virtual Eye ball tracking - so being able to review decisions does not mean all questions will be answered.
But, at the very least, a second look (even at full speed from the same angle) can help alleviate some doubt.
That is all the system is trying to do - alleviate as much doubt as possible and, if it still exists, then it goes in favour of the batsman.
So good for you, NZC, for being progressive but I still think it's safer to follow the norm and leave the power of review in the players' hands which reinforces the power of decision-making with the umpires.