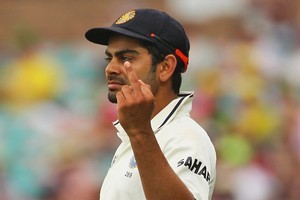 Indian batsman Virat Kohli has been fined 50 per cent of his match fee after making an abusive gesture to supporters at the second Test against Australia at the SCG.
Kohli was caught giving fans a one-fingered gesture during day two of the match and was subsequently hit with a level-two offence by match referee Ranjan Madugalle.
Indian team media manager GS Walia said Kohli had been informed of the charge on Thursday morning and pleaded guilty to making the gesture.
"The matter has been sorted out... the player felt guilty and sorry and the matter has been closed," Walia told reporters.
"When he went to the match referee, he said sorry and that out of emotions I must have done it."
Walia refused to discuss allegations by Kohli he was abused by sections of the SCG crowd and had given the gesture in response to that abuse.
He insisted the matter was closed making it unlikely the Indians will lodge a complaint with the SCG Trust over any alleged misbehaviour by the crowd.
- AAP