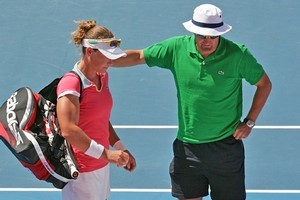 Ask David Taylor the differences between men's and women's tennis and there's a short and long answer.
"It's a different sport," he says.
Taylor, Australia's Fed Cup captain, is the pre-eminent coach in the women's game, having guided a clutch of stars including former world No.1s Martina Hingis and Ana Ivanovic and now US Open champion Samantha Stosur.
He points to the success of grand slam queens Serena and Venus Williams and Justine Henin, who have 27 majors between them, to highlight how theirs is a game played as much between the ears as between the lines.
"I think the limitations in women's tennis are mental," Taylor said ahead of what shapes as the most competitive Australian Open women's singles in history.
"They all play great. It's just what they believe they can do in the big moment.
"Henin was better at it, the Williams sisters are better at it than their peers and they're the ones who have won most of the grand slams in the last decade.
"It's very unusual in men's tennis to have ranking fluctuations like that of (ex-world No.1 Dinara) Safina for example."
Taylor - who started out as a hitting partner for 1994 Wimbledon champion Conchita Martinez "way back when" - reels off technical dissimilarities between the men's and women's games like Stosur thumps forehand winners.
The men's tempo is different because, owing to heavier top spin, they play further back in the court. Women are often on the baseline, even well inside, particularly Serena Williams when returning serve.
Very few women slide effectively on clay, whereas almost all men do. He notes that Monica Seles and Mary Pierce won the French Open without sliding at all.
The backhand crosscourt has long been the dominant shot in the women's game, as opposed to the men.
Women's return games are often stronger than their serve so they rely on breaking serve more frequently.
Superior foot speed helps men volley better and to turn defence into attack, well demonstrated by Novak Djokovic and Rafael Nadal.
One of the major technical discrepancies lies in the second serve, Taylor observes.
"Men all use kick (second) serves, whereas 95 per cent of women use slice due to inferior technique with leg drive on serve," he says.
"Therefore predictability of placement of the second serve in women's tennis is much greater."
Ultimately, he believes, weaknesses in the women's game are more obvious.
"Therefore it's easier to work out a strategy to be effective in the women's game," said Taylor, who also helped turn Alicia Molik from tennis journeywoman to top 10 player before injury intervened.
"It is possible to have major holes in your game and still be a top-10 player - for example, (Elena) Dementieva and Hingis had poor serves. This would be impossible in the men's game."
Taylor modestly credits the similar playing styles of Molik, Ivanovic and Stosur as a secret behind his and their success.
"I was very clear about how they could win," he said.
"Sam always, for example, thought she had to hit backhand crosses with the best girls in the world.
"The first thing I said when I saw her was: 'You've just got to hit backhands through the middle and lines so you can get forehands.'
"Why are you going string for strings? Get it back on your terms.
"If you're going to win 70 per cent of your shots with your forehand and serve, that's what you should be practising. Not practising the two per cent shot.
"It's pretty simple: the more forehands she gets, the better chance she has to win."
Taylor couldn't see himself coaching on the men's ATP Tour.
"I wouldn't want to put my hand up for a big men's coaching job," he said.
"But I think I feel comfortable having coached a lot of the good girls. It's such different tennis."
Given his success, it's hard to believe then that Taylor fell into the role.
"I didn't choose to be a women's coach. It just happened accidentally," said the 39-year-old from Bathurst.
"I guess coaching is pretty much an accidental profession really. You know, a frustrated tennis player who didn't make it.
"So the next sort of thing if you love the sport and you've got passion, you end up coaching."
While leading male players often exude unflinching self-belief, Taylor says instilling confidence can be half the battle in the women's game.
The other half is providing clear direction and a simple, pragmatic game plan.
"You've got to have a bit of that laidback attitude off the court because there's a lot of time (together) off the court," he said.
"But I think the coach is there to provide direction and structure, and really for me that's how I work.
"They have to live under certain rules. You can't be having six options. I provide that clarity. If someone asks why my players have done well, I'd say that.
"You give them very few options and make them live between narrow lines."
That philosophy has turned Stosur's career around since Taylor began coaching her in early 2008 after she returned from a long absence with illness.
While he loves the work, Taylor's successes with Stosur and Molik, in particular, are also hugely satisfying, more so because of a conversation he had many years ago while coaching top Bulgarian Magdaleena Maleeva.
"When I coached her she was No.11 in the world and she said to me: `Coaches only ever get one success story'," Taylor recalled.
"But after hearing that, it was a good motivation to prove her wrong.
"I'm very lucky. I've had some good jobs in women's tennis but the best ones have been with the Australians, or the most rewarding for me because they are Australian.
"Unfortunately Alicia got injured because she would have kept going, I think. That was pretty sad for her.
"But to have coached two players outside the top 100 into the top 10, for me is very satisfying."
- AAP