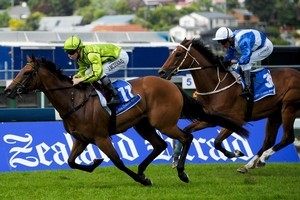 It's no surprise someone who would name a horse after a champagne bottle would be too busy making wine to watch the gelding's first win at Ellerslie at the New Zealand Herald Christmas carnival yesterday.
Jeroboam won without part-owner Tim Preston, who was back at his Mills Reef winery, at Bethlehem, near Tauranga, watching.
The sole representative was Maria Admiraal, also deputising for Warren Preston and Mark Chittick.
Jason Waddell landed Jeroboam home only a narrow winner, but it suggested it might not be the 3-year-old's last for in-form trainer Graham Richardson.
It's also no surprise that a syndicate that would name itself Team Whakachangchang would be a group of young revellers.
"We grabbed the name a few years ago when we raced a dog that won its first five races," said syndicate head Ross McKay, after Moirai quit maidens in dashing style yesterday.
"It's the old Waikato team's nickname and we liked it."
McKay and his mates were studying at Massey University in the greyhound days.
McKay, son of Waikato veterinarian Ian McKay, now operates Leanach Lodge, which has prepared yearlings for the sales series for the last three years. "I bought this filly as a weanling and she was meant to go to the sales, but developed a cyst in a stifle. I decided to form a syndicate instead and here we are."
Moirai (Not A Single Doubt-Razzle by Zabeel) has landed two seconds and two thirds from six starts and started the $2.20 favourite.
James McDonald had her beautifully placed fourth, squatting on the leaders and produced her to grab the lead at the 350m.
"The special conditions event on Karaka Million night looks a nice race for her," said trainer Shaune Ritchie.
Choice Bro proved he was well named when he made it look as easy as a $1.70 shot should in winning the Countdown To Karaka Million 2-year-old yesterday. This was a gimme after he had strongly chased home the highly talented Irish Rebel on debut at Manawatu at his previous start.
* Australian visitor Atomic Force yesterday drew No 15 in Sunday's $200,000 Blandford Lodge Railway at Ellerslie.
But if the emergencies are withdrawn, Atomic Force will come into barrier No 11. Durham Town is not ideally drawn at No 13 and Guiseppina is worse off at No 18.
Manawatu and Wanganui Cups winner Cassini will start topweight in the Waiwera City Of Auckland Cup.