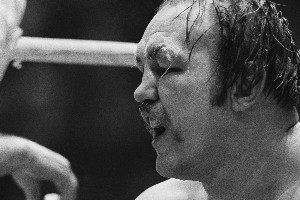 It all started 35 years ago and since then Sly Stallone has been at the heart of the six Rocky movies, and there is a chance of another.
Hundreds of tales are attached to the films, with dozens of boxers claiming they were the inspiration for various characters or scenes made famous by Stallone's creation, Rocky Balboa, the Italian Stallion.
Joe Frazier insisted he hit lumps of meat in a giant freezer before he was world champion; Stallone has given Don King and Muhammad Ali credit for their influence on other characters.
However, Chuck Wepner is the man at the bloody core of the films because he was the cut, bleeding and heroic no-hoper that sent Stallone down the Rocky road.
Wepner, a brave fringe contender with hundreds of stitches across his brows, lost a world heavyweight title fight to Muhammad Ali in 1975, dropped Ali in the ninth and was rescued by the referee with just 19 seconds left in the 15th and final round.
That is true, even if it reads like fiction.
Stallone was watching at a cinema and went home and wrote the Rocky story in three days. "When the man who was considered an absolute pushover knocked the unbeatable champion down - I saw how the crowd reacted and I said to myself: 'This is what it is all about'," said Stallone.
Ali had just beaten George Foreman in The Rumble in the Jungle, a fight he was expected to lose, and the Wepner and Ali fight, the first that Don King promoted on his own, was meant to be Wepner against Foreman.
Wepner was known as the Bayonne Bleeder and he had no control over the cuts across his eyebrows, nose and forehead. His trainer and cutsman, Al Braverman, lied to him about the severity of the wounds, and on most occasions the referee ignored the cuts.
However, in one fight, against the lethal-fisted Sonny Liston, Wepner was cut above both eyes, an eye was shut, his left cheekbone was shattered and the ref came over between rounds seven and eight. "Chuck, how many fingers am I holding up?" Wepner had no idea but Braverman tapped three times on his shoulder and Wepner replied: "Three, now get outta here and let me do my job."
It lasted another round before it was called off. Wepner claims he had 72 stitches, the ringside report suggests it was closer to 120. Liston was asked after the fight if Wepner was the bravest man he ever met. "No," Liston said. "But his manager is."
In 2003, Wepner, by now a reformed cocaine addict, was out of prison and looking for a bit of financial respect. He was sick of people shaking the hand of "the real Rocky".
He had a loose friendship with Stallone but still decided to sue for US$1 million ($1.29 million) for his part in the Rocky franchise, which has generated US$1 billion. In 2006 they settled out of court; Wepner was happy and now there will be a film of his life.
Here's Chuck on the night he planned after beating Ali: "I gave my wife a very sexy blue negligee. And I told her, 'I want you to wear this, because after the fight you'll be sleeping with the heavyweight champion of the world.'
"And when the fight was over, after I had gotten stitched up, 23 stitches, I went back to the hotel. And my wife was in the room, waiting for me, wearing the negligee. And she said to me, 'OK, big shot. Do I go to the champ's room, or does he come to see me'?"
Now that is a Rocky moment.
- INDEPENDENT