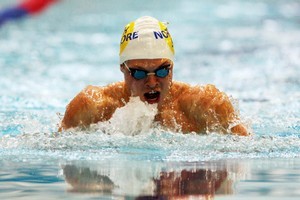 Glenn Snyders. Photo / NZPA
Some New Zealand swimmers will go to any lengths for success at next year's London Olympics.
In the case of top breaststroker Glenn Snyders, that's been around 3700 lengths of a 50m pool over the past three weeks - the most he has ever achieved in any single block of training.
What's more, it was at an altitude of about 2300m above sea level as some of Swimming New Zealand's High Performance Centre athletes set about a three-week training camp at Flagstaff in northern Arizona.
It's the first time Swimming New Zealand has taken a squad to rarefied air.
The camp was led by SNZ's performance coach Mark Regan, who is a keen advocate of altitude training and has run several camps at the Australian Institute of Sport and with the Danish national team.
It was new to the 24-year-old Snyders, who goes into the Olympic year as New Zealand's top-ranked swimmer - rated sixth in the 100m breaststroke, seventh over 100m and 12th on corrected rankings over 200m.
Snyders, from the North Shore club, said the camp was demanding, although he did not find the lack of oxygen as debilitating as he expected.
"It's tough, especially for breaststrokers. Those freestylers get it easy, I reckon," Snyders joked.
"I noticed walking to the pool on the first day I got a bit out of breath. It felt like walking into a hot, stuffy pool; it was a bit hard to breathe but not too bad in the water.
"It is difficult in those first few days. My heart rate skyrocketed in the first week, especially doing breaststroke, and anything over 100m was very hard."
While the results are often quite individual, the theory of altitude training is that with around 20 per cent less oxygen, the body creates more red blood cells, which carry the oxygen to the muscles. When athletes return to sea level, they get the benefit of this increased red cell count - in better recovery, workload and/or performance.
Coach Regan set an arduous schedule, with two pool sessions and a gym workout on odd days and three swim sessions on even days, with Sundays off.
It began with the 7x200 step test, where swimmers set out 30 seconds above their agreed goal time for 200m, and repeat it seven times, reducing their time by five seconds each 200m.
"We did it at the start and again at the end and I was four seconds faster. That's encouraging."
The camp had some other benefits, according to Snyders.
"A change of environment is always good, so some of our benefits are just because we are away together somewhere new.
"I have done a lot more than I have ever done before - about 185km over the three weeks. We also had a lot of quality sets in there as well, which were harder at altitude, but it's definitely been a good camp.
"I am happy with where I am at. It has been a very tough camp mentally and physically.
"We have gone fast over here and so we are all quite interested to see how we go when we get back to sea level."
Higher workouts boost blood
Altitude training has been an accepted part of athletic training for endurance sports such as swimming, triathlon, rowing, cycling and long-distance running for many years.
At altitude, there is less oxygen, and therefore the body adapts by increasing the mass of red blood cells and haemoglobin, which carry oxygen to the muscles. Increasing the maximal oxygen intake allows for higher performance for a longer period.
Once an athlete returns to sea level, they are able to recover more quickly, and hence train longer or harder, providing a spike in performance through the higher concentration of red blood cells.
Flagstaff, Arizona has been a popular high-performance training spot for more than 40 years, with the official High Performance Centre established at the Northern Arizona University in 1994.