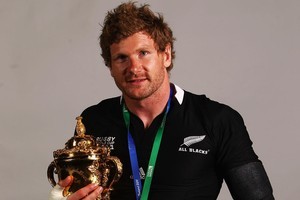 Not long after World champion All Black Adam Thomson was burgled, his family has been struck another blow.
Earlier this afternoon Thomson tweeted "Well well, my mum has also just been BURGLED. These amazing members of society even took the xmas decorations! Losing faith in this country".
"I can understand people stealing necessities for survival but f****** xmas decorations! ..what has this place come to? #merrychristmas".
Thieves burgled Thomson's apartment earlier this month taking a stereo system, PlayStation, sunglasses, shoes, clothes and foreign currency along with his treasured Rugby World Cup winning All Black jersey.
Thomson tweeted after the robbery of his apartment "keep what you must but for God's sake return the test jerseys.. they mean nothing to you but everything to those who earned them!"
Anyone with information is urged to contact Crimestoppers on 0800 555 111.
- Herald Online