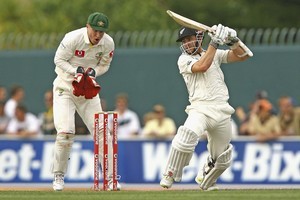 Welcome to the three-day cricket test. Unless the Bellerive Oval pitch undergoes a makeover of Shane Warne proportions, the second international between New Zealand and Australia certainly won't require day five and probably much of the fourth day as well.
New Zealand will start the third day at 139 for three, holding an overall lead of 153 but on this pitch the usual target objectives won't apply. They will figure if they can leave Australia needing even 250 they'll be in with a real chance of a series-squaring victory.
New Zealand worked hard in their second innings, having squeezed out a 14-run first innings advantage courtesy of a terrific effort by their seamers. They were helped by sloppy Australian new ball bowling in which they often had their lines wrong.
But once openers Brendon McCullum, to a good ball, and Martin Guptill, with a shot he didn't need to play, had gone, Australia got lucky. Jesse Ryder played a thoughtless leg side waft at part-timer Mike Hussey to be niftily stumped by wicketkeeper Brad Haddin.
However, captain Ross Taylor, dropped on 14 at gully by Phil Hughes off Hussey, and Kane Williamson batted sensibly and well to be on 42 and 34 respectively, although Williamson survived a late lbw scare.
By 2.20pm yesterday, 20 wickets had fallen in 96.5 overs for 286 runs - effectively one day's play in normal circumstances.
There's various schools of thought on what you want out of a test pitch, but one thing cannot be denied about Bellerive Oval; it has been a test not to take the eyes off.
It behaved itself better in the final session yesterday, as New Zealand grafted to enhance their 14-run first innings lead.
In the first two sessions, the ball was zapping about off the still-green strip, swinging sharply and making fools of the batsmen, before improving late in the day.
The ball would take on the appearance of a fast leg break, or seemingly swerve around a corner and batsmen would have done well to edge some deliveries.
Particularly in the morning, more than one batsman must have had that feeling of "it was right there ... where did it go?" as he instead stroked at air where a ball should have been. These most certainly were not normal circumstances.
Among the puzzles of the day was the crowd, or lack of it, just over 5000 yesterday.
Hobart has one test each summer. You would think they would take advantage of the opportunity - or as one press box wag put it, what else is there to do in Hobart on a Saturday?
What's more their favourite son, Ricky Ponting, was striding to the middle a few minutes after the start in what is likely to be his last home test. If he misses out in the second innings, that could be last test, full stop. That, you'd think, would have had the turnstiles clicking more urgently.
New Zealand might have felt a point to prove when the day began had they seen the Australian newspapers.
"Kiwis are cooked - anyone feel like a bit of Indian?" asked the Herald Sun, ever so slightly prematurely, with the main course of the Australian summer starting to arrive in Melbourne for the traditional Boxing Day test.
But New Zealand's bowlers watched Friday's events and got their lines right with a highly impressive, sustained collective bowling display. Australia were dismissed for 136 - their third lowest total against New Zealand, after 103 at Eden Park in 1986 and 110 at the Basin Reserve four years later. It was their worst total against New Zealand in Australia, dipping under the 162 of Sydney 37 years ago.
At one point in the morning, Australia lost five for 44 in 16.3 overs, which was rather New Zealand-like, remembering the Gabba.
When was the last time New Zealand attacked with a six-handed slip-gully cordon?
That's what the veteran Chris Martin started the day with and he justified captain Ross Taylor's faith in his bat-beating talents, having both David Warner and the hopelessly inadequate Usman Khawaja edging into that area. Martin bowled beautifully on a long opening spell, which produced three for 28 off 11 overs.
But he was not alone. Trent Boult's first innings as a test bowler was one he should savour.
He took three for 29 from 13 classy overs, top-class operator Mike Hussey his first test wicket. Williamson's fine catch at gully and a successful referral to end the innings with Mitchell Starc's wicket rounded off his day.
"There were nerves going into it at the start but once I got into my rhythm it felt pretty good," Boult said last night.
He received his cap just before the start from Dan Vettori, fellow Northern Districts man and the player he replaced at the eleventh hour in Hobart. "It all seemed to go pretty quickly and I'm very happy with the way it went."
He noticed the pitch seemed to behave differently at the two ends but as for a target to set?
"It's just about getting as much as we can."
For Martin the big thing out of the day was the work of the young seamers Doug Bracewell and Boult.
"They stood up, showed composure and discipline," Martin said.
It was a long time since he'd seen a pitch that green in a test.
"If you look around the world there's not too much variety in pitches.
"But days of test cricket like that definitely make people watch. If you're a connoisseur of swing and seam bowling then today was a really enjoyable day's cricket.
"It was a tough ask for any top order batsman out there today to feel comfortable."
A thought, too, for Bracewell, who kept the hammer down once the two opening bowlers took a rest. He'll savour having Australian captain Michael Clarke lose his off stump shouldering arms.
Clarke had looked Australia's best-equipped batsman to cope, played a couple of cracking drives but, as throughout the first two days, the pitch was always going to beat the field.
Among the theories doing the rounds for the nature, and colour, of the pitch is that of late Bellerive Oval has tended to deteriorate markedly in the final day and a half of the four-day Sheffield Shield programme. Australian seamer James Pattinson remembered playing on a similar pitch early this year for Victoria, where the ball was rolling along the ground in the latter stages.
So the groundsman, Marcus Pamplin, kept more water in the strip than he would normally do to guard against that. Nice idea; shame about the execution.
The upshot was that apart from half an hour after lunch yesterday, when New Zealand's guard seemed to drop a notch and Peter Siddle struck out determinedly in a 56-run stand with Pattinson, luck played an inordinate part in how long the batsmen survived.
Great fun for the viewers, and too often these days it's a batsman's game. But this time the balance was flipped too far the other way.