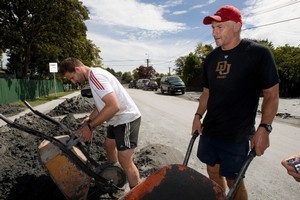 The Crusaders might have had a good year on the field but they struggled off it because of the Christchurch earthquakes and inability to play games at AMI Stadium and today posted a $696,300 loss for the year ending August 31.
The Crusaders were beaten in the Super Rugby final by the Reds but remarkably got that far despite playing all of their matches away from Christchurch because of the damage to AMI Stadium.
"We are immensely proud of what the team achieved in almost claiming the Super Rugby title without a home game but, unfortunately, a season on the road came at a financial cost," Crusaders chairman Murray Ellis said.
"The support from the communities of Nelson and Timaru in particular, also Napier and Wellington, was immense and very humbling - but the revenue generated was insufficient to match our overall needs.
"Hosting home games at smaller venues with associated costs that were greater than normal due to travel, accommodation etc. meant that we were never going to be able to generate enough income to cover costs," he said.
The Crusaders made a surplus of $125,714 the previous year. Amendments to the financial year meant the latest report was over a 14-month period.
Work has begun on a new temporary home at Rugby League Park, where the Crusaders expect to play all their home games in Christchurch next season.
"With the new stadium at Rugby League Park going ahead, we are optimistic about the next few years. This venue will enable us to play in front of fans and commercial partners in Christchurch, and go a long way towards financial sustainability over the next 3-5 years," Crusaders chief executive Hamish Riach said.
- APNZ