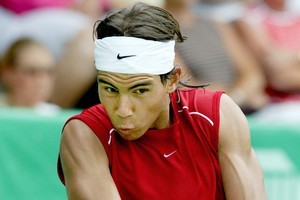 Argentina decided to hold back David Nalbandian, opting instead to send Juan Monaco up against Rafael Nadal in the opening singles match of the Davis Cup final.
Nadal will take on Monaco today in the opening match of the best-of-five series on clay at the Olympic Stadium, Seville, with Nalbandian picked to play in the doubles. The 2002 Wimbledon finalist could then play in the reverse singles if Argentina are still alive.
Nadal has won 18 straight singles matches in the competition since losing in his debut in 2004. "It's one of the greatest [challenges] in [tennis] history," said Monaco. "It's a tough match not only to play the first game for Argentina but also against my good friend Rafa. It's a new challenge, but it definitely motivates me to be playing in my first Davis Cup final."
Monaco is only 5-7 in Davis Cup play, while Nalbandian is 22-5 in singles and 10-1 on clay. Overall, Nalbandian is 33-10.
After Nadal's opening match, fifth-ranked David Ferrer will play Juan Martin del Potro. In doubles, Nalbandian will partner Eduardo Schwank against Feliciano Lopez and Fernando Verdasco.
Nadal and Ferrer are a combined 25-0 on clay for four-time champion Spain.
"No match is won beforehand," said Nadal. "Somebody has to play first and I'm going to be the first to try and win that first point for Spain." The six-time French Open champion is scheduled to play Del Potro in the reverse singles.
"Even if I'm tired I tried my best to arrive in the best conditions. Every point will be a difficult one."
If Argentina can get at least one point today or tomorrow, it is possible that Nalbandian would replace Monaco for the reverse singles match against Ferrer.
Although Nadal has been nearly perfect in Davis Cup, the Spaniard surrendered his No 1 ranking to Novak Djokovic at Wimbledon and is coming off a disappointing ATP World Tour Finals in London. He was eliminated in the first round and said he felt less passionate about the game. But a return to the same venue where a teenage Nadal beat then-No 2 Andy Roddick to help Spain defeat the United States for the 2004 title could come at a perfect time.
"It's a victory I will remember for all of my life," Nadal said. "From that moment my career took off."
Carlos Moya, Nadal's teammate on that squad, said the 10-time Grand Slam winner would be very tough to beat.
"He's always valued the Davis Cup and he's a great leader. He pretty much guarantees two points for the team," said Moya. "He likes to be surrounded by teammates, in a competition that represents the whole country and the pressure that it brings."
Even without Nadal, Spain beat favoured Argentina in the 2008 final in Mar del Plata.
This year, it's the Spanish team who are trying to keep from being overconfident heading into the final weekend of the season.
"They gave us up for beaten before the final and we won," said Verdasco, who earned the series-winning point in Mar del Plata. "Both teams have a chance in the final. You still have to win it."
Spain, who also won in 2008 and 2009, will be playing in their sixth final since their first Davis Cup title in 2000. And Nalbandian, who has not played since mid-October, will be playing in his third final for Argentina.
"They have to win the doubles, period," Moya said. "And win both points against David Ferrer, because Nadal has never lost in Davis Cup on clay nor at home."
- AP