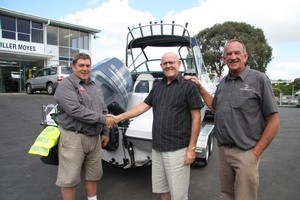 A Haines Hunter SF600 Sport Fisherman, complete with Yamaha F150hp outboard, Lowrance electronics and a DMW trailer, is up for grabs in a raffle being held to raise funds for the South Auckland Hospice.
The boat, outboard, trailer and electronics have been donated to the Freemasons South Auckland Hospice Charitable Trust and are part of the trust's plan to raise $1 million for the hospice.
According to the trust's Ian Ross, $800,000 of that has already been raised after a house was built and sold at no cost.
Ross is grateful to Miller Moyes Seacraft, builder of the Haines Hunter range, for putting together the package, which has a retail value of about $100,000.
"Miller Moyes' Dennis Kendall and Lionel Sands have done everything to make this project a success, including registering the rig," Ross says.
Acknowledging that his suppliers have also made "extremely valuable contributions" to the package, Sands says he supports what the trust is trying to achieve.
"In the past we have sponsored a number of fishing events, but felt this was a way to give something back to the wider community.
"Somehow, it seems more meaningful to be supporting something like this hospice trust."
While the fully rigged Haines Hunter will no doubt be the drawcard for the fundraiser, other prizes will also be up for grabs.
Second prize is an eight-day holiday to Mooloolaba, on Australia's Gold Coast, including Air NZ flights and accommodation at the Mantra hotel. Third prize is a deluxe Air NZ mystery weekend.
Raffle tickets are $5 each, with books of 11 for $50. Those interested can write to Ian Ross, PO Box 202215, Southgate, Takanini, with a cheque made out to the Freemasons South Auckland Hospice Charitable Trust.