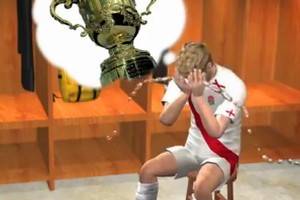 Things are going from bad to worse for the English rugby, with a Taiwanese TV station the latest to stick the boot in.
After a disastrous Rugby World Cup campaign riddled with controversies - including dwarf-tossing and Manu Tuilagi jumping off a ferry - a leaked report unveiled claims of greed and a lack of professionalism within the team.
NMATV, which produced computerised 3D recreations of Tiger Woods' sacking of Steve Williams and the Ryan Giggs superinjunction fallout, has now turned its attention to England's shamed rugby stars.
The video features the team turning into bottles of alcohol, players disappearing to hide from irate fans and players crying after their quarterfinal loss to France.
It also mocks the team's now infamous night in Queenstown, featuring a dwarf dressed up in a Superman outfit.
Meanwhile disgraced centre Mike Tindall has been restored to England's "Elite Player Squad'' after appealing against his punishment for misconduct during the Rugby World Cup.
WATCH VIDEO:
- HERALD ONLINE