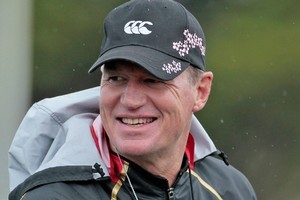 Graham Henry may not be interested but one All Black World Cup winner is keen to take on the vacant England coaching job.
Former All Black John Kirwan has told an English newspaper that he is eager to replace Martin Johnson as the England manager. Johnson resigned last week on the back of a disappointing Rugby World Cup campaign.
England crashed out of the tournament in the quarterfinals to France following a series of embarrassing off-field incidents including a notorious drunken night out in Queenstown involving former captain Mike Tindall.
Kirwan, who coached Japan for the last four years, told the Guardian that he is excited by the prospect of the England role and that it would suit his attacking style.
"It would be an honour for me to coach the English side. I think it would be a fantastic job. The team is really exciting. I'm a head coach but I specialise in attack and unleashing the England attack would be something really exciting," he said.
"I don't want to criticise what's gone before me; I've lots of respect for Martin - winning the Six Nations last year they played some really good footie. But Chris Ashton, Ben Foden, Toby Flood - as an attack coach that sort of calibre of player really excites me. You could really unleash those guys. For me to move a team like that forward would be a really big challenge."
The 46-year-old, who played 63 tests for the All Blacks and was part of the 1987 World Cup winning side, has previous coaching experience in the Six Nations after leading Italy from 2002 to 2005.
"I've worked at some interesting places like Italy - I understand the Six Nations and Italy had its challenges as well from that point of view. The buffer [between players and executives] is the head coach. What happens above me should not affect the players."
Earlier this week former All Black coach Graham Henry ruled himself out of the England job following former South African coach Nick Mallett and 2003 World Cup winning coach Clive Woodward who have also said they have no interest.
Former Wallabies coach Eddie Jones is one high profile name that has publicly said he wants the job while former England international Jeremy Guscott has endorsed Northampton Saints Jim Mallinder to replace Johnson.
Despite not being mentioned as a possible candidate until now, Kirwan says he would be up to the challenge.
"As a head coach I think the job would be very exciting because of the quality of the Premiership - I watch most games - and the team would be an exciting one. There are a few things that as a coach I look at and think: 'Yeah, there's challenges but it's certainly a challenge that excites me'."
- HERALD ONLINE