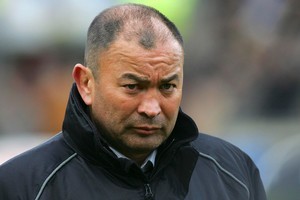 Former Wallabies coach Eddie Jones wants the job; former Springbok boss Nick Mallett says "thanks but no thanks".
Mallett said yesterday he had been approached about replacing departing England coach Martin Johnson.
"My primary concern is my family," Mallett said. "We are settled in Cape Town and it is my wish to be able to enjoy time with my wife and kids after four years in Italy."
But Jones, who assisted the Boks in their victorious 2007 World Cup campaign, was eager to take England to a cup on home soil in 2015.
"You'd always be interested in coaching England," Jones told BBC Radio. "It has got a fantastic domestic competition, very, very good players and you have just got to get the right programme in place and they should be good enough to win the next World Cup."
In his last press call, Johnson said his players' notorious night out in Queenstown was a factor in his decision to quit. "The off-field things during the World Cup didn't help," Johnson said. "We gave people the opportunity to report on us as they did.
But it's not a kneejerk reaction."
Jones was sacked as Australian coach in 2005. It left him with the unenviable record of a success-rate of 57.9 per cent, the lowest as a Wallabies mentor in the professional era.
His record of 33 wins from 57 tests is narrowly lower than present coach Robbie Deans' statistics of 32 wins from 55 tests (58.2 per cent).
- AAP