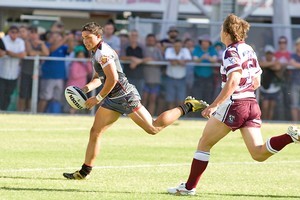 NRL grand finalists the Vodafone Warriors will play another pre-season game in Whangarei ahead of the 2012 season, taking on an Australian team in February.
The Warriors, who lost 10-24 to Manly in the NRL decider at ANZ Stadium in October, won 30-0 in front of a bumper crowd of 8222 against Burleigh Bears at Toll Stadium on February 19 and that success will see the team return for more ahead of next season.
The exact opposition the Warriors will face at the stadium on February 18 next year is being revealed today, but it is believed it may involve Manly or its feeder club. The Burleigh Bears are a feeder club for the Gold Coast Titans.
The Warriors' Toyota Cup under-20 team , which won back-to-back premierships in in the last two seasons - will play the curtain raiser on February 19 against a yet to be determined opposition.
Events centre manager John Lynch said the Warriors' squad would again be involved in a number of activities ahead of the game, such as hospital visits and signings, as they did earlier this year.
"It is fair to say that we are delighted to have both Warriors teams coming back to the city and this once again demonstrates the type of high level event and activity that can now come to the district with the redevelopment of Toll Stadium,'' Mr Lynch said.
"We hope on the back of the World Cup that people who have experienced the atmosphere of an event at Toll Stadium will come along and see a couple of New Zealand's elite sports teams and have an enjoyable day out and experience at their stadium.
"The Warriors thoroughly enjoyed their stay last time and we're very happy to be returning to our city.''
The Warriors will play a pre-season game against the Gold Coast Titans at North Harbour Stadium on February 4 and kick-off the season proper against Manly at Eden Park on the weekend of March 1-5.
For more articles from this region, go to Northern Advocate