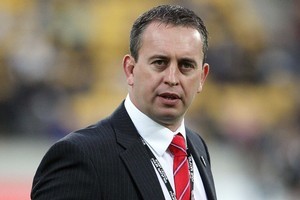 England will "go to war" tomorrow, with their hearts and their poppies on their sleeves and the extra inspiration of the Hull factor.
England need to beat New Zealand at the KC Stadium and their Hull-born coach, Steve McNamara, believes that a fanatical, capacity Humberside crowd will help them to do so. Advance ticket sales have already taken the attendance beyond the 21,000 record for a Test against the Kiwis in this country and there is the near certainty of a 25,000 full house.
"There's nowhere in this country where people are as passionate in their support as Hull," said McNamara, who believes that his Hull FC centre-wing combination of Kirk Yeaman and Tom Briscoe will draw particular strength from the occasion. "A packed KC Stadium can be a very intimidating place and that's what the Kiwis will be facing. We are going to war."
England will do so paying what they see as the appropriate tribute to rather more fundamental hostilities in the past. Unlike their soccer counterparts, the players at Hull will wear poppy badges ironed on to the shoulders of their shirts.
"We'll be wearing ours. We've been doing it for a number of years," said McNamara. "All sportsmen respect and support this type of cause. I think it's right that a national team should do that."
For all their fighting talk, England do not yet know whether they will be able to go into battle on Sunday (NZ time) with their full complement of troops. At yesterday's Loughborough session, two-thirds of their first-choice pack were either absent having treatment or on individual training schedules.
Chris Heighington is the latest in the list of doubts, after picking up a knock to the calf during last weekend's defeat by Australia. Like James Graham with his back injury, however, Heighington was adamant that he will be fit to play.
Of greater concern is Gareth Ellis, who was away having specialist treatment on his back, and the captain, Jamie Peacock, who trained gingerly on a sore right knee. McNamara has his "Secret Seven" - the rest of the squad who have not yet played in the tournament - standing by, but the word from the coaching staff is that all four may make it. Independent