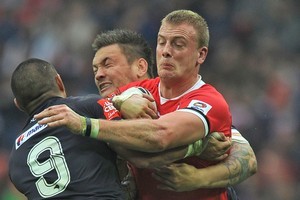 Welsh forward Craig Kopczak is facing a one-match suspension for the tackle that ended Kiwi prop Sam McKendry's Four Nations campaign at Wembley Stadium on Sunday morning (NZT).
McKendry was carting the ball up when he had his jaw broken in a collision with Kopczak early in the second half. He was taken to Princess Grace Hospital for surgery immediately after the game.
Today the Welshman was charged with a dangerous shoulder charge after a review by the international match review committee. He will miss Wales' final Four Nations match against Australia on Sunday if he accepts the charge.
McKendry was in the wars at Wembley. He also left with blood flowing from his nose after he was hit in a 15th-minute high tackle which went unpunished at the time. Today the match review committee issued Welsh hooker Neil Budworth with a caution over the tackle.
McKendry is back in camp with the Kiwis and will remain with them for up to a week before returning home to Sydney.
He's due to see a specialist in London later this week and it's hoped he will be able to fly home early next week.
Also facing a one-match ban is Australian interchange forward Tony Williams, who has been charged with a high tackle offence following his shot on England's Ben Westwood early in the second half of the feature match at Wembley Stadium. If he accepts the decision, he will miss Sunday's clash against Wales in Wrexham but will be available for the Four Nations final the following weekend, if they qualify.
McKendry continued to recover from his surgery in the Kiwis' base at the Hilton Hotel in London today.
The rest of the team had a double training day with weights in the morning, a video session and then their first field session of the week, again held at the Wasps Rugby Club. The Kiwis travel to Leeds tomorrow where they will have field sessions on Wednesday and Friday before travelling to Hull for their crucial match against England at the KC Stadium on Sunday morning (NZT). The winner of the match will face Australia in the final.
Of the 22 players left in the Kiwis' squad, only prop Fuifui Moimoi didn't take part in the field session today. Moimoi was on the field for only six minutes before he was forced off with an ankle injury but medical staff are optimistic he will recover in time to meet England.
- APNZ