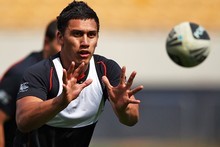 Rugby league's structures convinced Kiwis back-rower Elijah Taylor to quit rugby union but the 21-year-old says he'll consider going back to the rival code when his current Warriors contract expires.
Just seven months after making his NRL debut, the utility has been selected to make his Kiwis debut in Sunday morning's (NZT) Four Nations clash with Wales at Wembley Stadium. It's the sort of meteoric rise that first attracted the Taranaki junior to the 13-man game after playing rugby as a youngster.
"I saw a pathway with rugby league and the Warriors - the [under-]20s and into first grade. I just didn't see that pathway in Auckland rugby union,'' Taylor told APNZ after the Kiwis training, co-incidentally, at Wasps rugby union ground in west London yesterday.
"It was plainly set out. You go through development, you make the under-20s, you train with first grade and then you make first grade. You're already there. [In rugby union] I just didn't see the structures that I did at the Warriors.
"I was in the Auckland under-16s union team and development squad - that was back in 2006.
"I still love my union, watch a lot of union, watched a lot of the World Cup. Never say never. I'm always keen to give it another crack ... definitely ... it's always an option. I've got two more years [at the Warriors]. I'd play second-five, that's where I played as a kid. I've played union all my life.''
Sonny Bill Williams, who has since switched to rugby union, is often cited as a major factor in Taylor's decision on which code to play. "It was a tough decision to make,'' he said.
"Being at St Paul's College, we had a good first XV in the top grade and a great first XIII in the top grade. I was playing first XV on Saturday and first XIII on Wednesday and had to make a tough decision at the end of the year.
"I saw the structures but I liked the game of league when I was playing it. It was fast, you got the ball a lot more. It was a career choice and I'm enjoying it at the moment.''
Known as a player obsessed with doing `extras' at Penrose when his Warriors teammates have left the field, Taylor sees his elevation to the Kiwis as a reward for years of hard work.
"It's hard work and persistence through a number of years since 2008,'' he said. "Even when I was a teenager, I was going hard. It's a lot of hard work and all that's paid off.
"One of my goals is ticked off. I'm very fortunate to be here because some of the players pulled out due to injury. I wasn't named in the official touring squad. It's given me an opportunity and I want to make the most of it.''
Simon Mannering has been given a spell for the Wales game, his first rest at any level this season, with Alex Glenn named in the centres, Gerard Beale moving to the wing and Nathan Fien recalled to the bench. Adam Blair will start in the second row after serving his lengthy suspension for his role in the feisty NRL match with Manly and it will be much-needed match practice ahead of next weekend's crunch match with England.
Taylor wasted no time in telling parents Yvette and Ron of his selection, even though the time difference meant they may not have been immediately thrilled to hear from him
"Everybody was asleep when I found out - it was around one o'clock here,'' he laughed. "I remember watching the Champions League last year, Man U and Barcelona playing at Wembley, so it's going to be a pretty special place and I can't wait to play.''
- APNZ
By Steve Mascord in London for APNZ