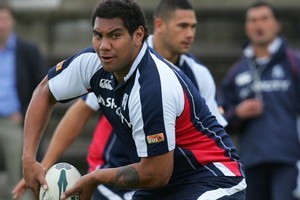 Loose forward Brad Mika remains in the frame for a belated Blues call-up.
The 30-year-old former All Black was a surprise pick for this season's squad but damaged a knee before the tournament and then snapped his Achilles tendon.
It is almost seven months since his operation and while not yet at full strength, Mika has passed inspections from the Blues medical staff.
He is expected to be named in the squad today as franchise sides are revealed for 2012's expanded series.
"It's come along well and while I have not quite got a full heel extension it is making good progress," he said.
"I've almost forgotten how to play," he joked after little rugby in the past 18 months. "I've been playing some touch and I've been learning how to pass properly again and a few other things. It has been a bit strange. However this time off has given me a new lease of life, I can't wait to get back into it."
Mika played as lock for the All Blacks in 2002 but has been earmarked as a No8 for the Blues.
Missing from the squad will be Jared Payne, Joe Rokocoko, Winston Stanley, Luke McAlister, Stephen Brett, Chris Smylie, Kurtis Haiu, John Afoa and James King.