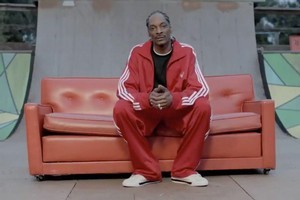 Fame and fortune turned an American rapper into an All Blacks fan - for at least seven seconds.
Internet traffic briefly lit up when Californian rapper Snoop Dogg broadcast a 7s goodwill message to the All Blacks during their victorious World Cup campaign. Decked out in his corporate patron's clothing, Snoop said: "What up Dogg? Good luck to the All Blacks. Special shout-out from your boy Snoop Dogg and the peoples at adidas. Be original."
Concert promoter Layton Lillas said getting such a musician to endorse anything usually involved high fees. "It'd have to be worth US$100,000 for him to even lift a finger." But adidas public relations manager Sherryl Arneil said Snoop was part of the company's "family" which included stars such as Katy Perry, and he wasn't paid extra.
john.weekes@hos.co.nz