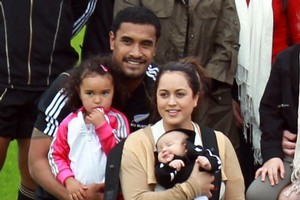 Jerome Kaino, 28, is getting married in Samoa next month - with a magazine deal that makes him the first All Black to cash in on World Cup glory.
He planned to marry long-term partner Diana Breslin, with whom he had two children.
The couple became engaged in Sydney in 2009, after the All Blacks won the Bledisloe Cup.
They had a daughter Milan, 2, and a son Kobe who was born on September 1.
When the Herald on Sunday contacted Kaino, he said he couldn't talk about the wedding because the couple had a deal with Woman's Day.
Sources said the deal might be worth about $20,000.
Friend Jerome Tusani tweeted on October 24: "Birth of his first son, winning #RWC2011, and his wedding day, this is your year @JKaino".
A staff member at Aggie Grey's hotel in Samoa confirmed Kaino's wedding was taking place on November 19 at the hotel's resort.
The Aggie Grey's website said couples could have a sunset wedding, marry by the lagoon, on a private beach or in a 100-year-old Catholic chapel in the grounds. Resort rooms cost $408 per night.
The reservations department said the resort was fully booked for November 17, 18 and 19.