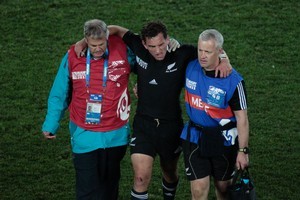 New Chiefs coach Dave Rennie received a timely boost on the eve of the Super 15 squad announcements with news that star recruit Aaron Cruden will not require surgery.
A delayed start to the Super 15 for Cruden could have seen Rennie using one of his four draft chips on a first five-eighths, but the news from All Black doctor Deb Robinson was all positive.
"Aaron saw a specialist in Auckland today who confirmed that he won't require surgery," Robinson said. "He will have to wear a knee brace for the next three to four weeks before he gradually returns to training over the following month, and is expected to make a full recovery."
Cruden's knee appeared to buckle backwards in a tackle in the first half of the the All Blacks' 8-7 victory over France in the World Cup final. He might not be up to speed for the Chiefs' early pre-season fixtures, but he should be ready to suit up when they kick off their campaign against the Highlanders in Hamilton on February 25.
"It will be about eight to nine weeks before he's back to full health, so that's pretty good," Rennie said.
Rennie, who has taken the reins after Ian Foster's eight-year term, felt his side had enough cover anyway.
Southland recruit Robbie Robinson has spent plenty of time in the No 10 jumper, and the Chiefs have also signed Hawkes Bay goalkicker Andrew Horrell.
The coaches go into the draft room early next week before the squads are announced on Wednesday.
Rennie, who will be joined at the franchise by former All Black defence and counter-attack coach Wayne Smith, leaves for overseas immediately after finalising his squad. He intends to use the draft to shore up his midfield and outside back contingent.
Midfield will not be such a pressing issue if Sonny Bill Williams becomes the 28th player signed by the Chiefs ahead of the draft.
Rennie remained coy on the prospect of Williams joining his ranks, saying he had received some "feedback" in the past 24 hours, but would not say whether the feedback was positive.
"If he goes overseas or goes to the Blues, we've got someone else in mind."
The Chiefs have signed 27 of their 28 squad positions.
While much of the focus will fall on the make-up of a Hurricanes squad shorn of some international quality, no squad is as likely to be revamped to the same extent as the Chiefs.
As many as 16 of last year's squad could be missing this time around, including internationals Mils Muliaina, Aled de Malmanche, Mike Delany, Taniela Moa, Sitiveni Sivivatu, Isaac Ross and Tana Umaga.
Militating against such wholesale changes was the fact that there was a bigger pre-season window.
Rennie said his squad would assemble on November 21 for a five-week pre-Christmas camp, before meeting again for three weeks before the season started.