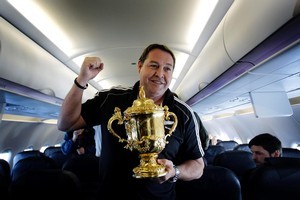 All Black coaching aspirants should check their mail this week.
Letters have been drafted to about 20 candidates the New Zealand Rugby Union considers both eligible and suitable to coach the All Blacks next season.
The Herald understands Graham Henry has indicated in private he will not seek another coaching term and, publicly, will discuss his decision soon.
Current assistant Steve Hansen is favoured to take over and has voiced his ambition to be All Black coach after eight years with Wayne Smith in technical support roles to Henry.
Smith is leaving to help coach the Chiefs next season and scrum coach Mike Cron is also departing to work at lower levels of the sport.
Hansen followed Henry into work as Wales coach in 2002 and through into the 2003 World Cup before switching his allegiance to the All Blacks the following season.
NZRU chief executive Steve Tew said letters were being posted to contenders here and offshore.
There had been no thought of widening or changing the criteria that would-be coaches had to fill.
"If at the end of the process there is no joy, perhaps we might think about it but we believe the system is well-balanced and will produce a result for the next All Black coach," Tew said.
There were a number of coaches working offshore who qualified. Off the top of his head he thought men like Joe Schmidt, Vern Cotter and Kieran Crowley qualified but he would need to check that list in the office.
NZRU regulations state that candidates must either have worked in New Zealand for the last year at Super Rugby or ITM Cup level or have at least three years experience in those roles, accumulated in the last five years.
Men like Wallaby assistant David Nucifora are probably eligible but former All Black coach John Mitchell does not qualify.
Only a specific group of coaches qualify for interviews.
The All Black coach and his panel will be appointed in the next few months after a review process headed by staff member Don Tricker.
The former national softball coach worked for Sparc in 2007 and was involved in that year's review of the failed World Cup campaign with Auckland lawyer Mike Heron.
Last year's five Super rugby coaches - Pat Lam, Ian Foster, Mark Hammett, Todd Blackadder and Jamie Joseph - will be the leading domestic contenders to join the international coaching ranks.
None except Foster, who has finished an unremarkable eight year stint with the Chiefs, are thought to be interested in the national scene just yet while there is some noise that Mick Byrne, the team's current skills coach wants to step up.
Foster was offered a number of positions in Europe and Japan this season but declined those opportunities, giving further weight to the theory he was hoping for an assistant role on the 2012 coaching roster.
Byrne has been involved with the All Blacks since 2005.
The former AFL player has worked with a variety of rugby sides including Japan at this World Cup.