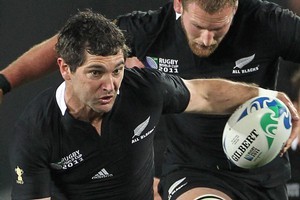 This was a game that was crying out for a hero.
Against Argentina, Piri Weepu stood up. In the semifinal, Cory Jane rose above everyone to snuff out Australia's aerial attack.
Who was going to make the final their own?
If anyone, it was France captain Thierry Dusautoir, the most magnificent player on the park, even if an ultimately vanquished one.
The first half was everything that was good and bad about knockout rugby. It was stilted, with play shifting, most often aimlessly, from one set-piece to another. France made inroads down Richard Kahui's side of the field and had some success, while New Zealand were getting some hard-won metres via Ma'a Nonu and Kieran Read down the middle of the track.
But hell, it was absorbing. France had a plan and, to be perfectly blunt, had little trouble executing it.
It was one of stifling pressure - not allowing the All Blacks quick ball.
They were ultra-committed. Nobody expected anything different, but perhaps nobody expected the All Blacks to be quite so complicit in allowing them to execute it.
The All Blacks went to halftime only 5-0 up, following a nice training-ground lineout. True, France rarely threatened, but this was far removed from the script the All Blacks had written for themselves.
Weepu couldn't hit a barn door off the tee, Israel Dagg slipped over every time he tried to change direction and, most painfully of all, Aaron Cruden hyper-extended his knee. That brought to the field Stephen Donald, keen whitebait fisherman and New Zealand's fourth-choice No 10.
Playing with a shirt at least two sizes too small, Donald, who only stopped off at this World Cup en route to Bath, looked the unlikeliest of candidates for a match-winning hand.
But when he stepped up to relieve Weepu - whose confidence off the tee was in tatters - and stroked one through the posts, he pushed New Zealand out to an eight-point lead.
Suddenly Donald was on track to become the toast of the country.
That's when Dusautoir took over.
He scored a try, tackled everything that moved and drove with a ferocity reminiscent of Jerome Kaino.
Dusautoir deserves the salutations, but only one man can claim to have kicked the final's decisive penalty.
Step forward Stephen Donald. Waiuku's finest. World Cup winner.
"I didn't kick a ball for about six weeks," Donald said after the match. "I was pretty proud to get that one over.
"At the time I didn't think it was that important, but it turned out to be pretty crucial."
Crucial? You could say that. It was a kick that won the World Cup - and secured the kicker's place in history.