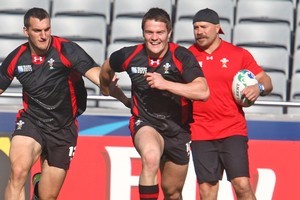 Rugby World Cup bronze finals are a waste of time and should be scrapped, an All Black great who took part in one says.
Wales and Australia are set to match up to decide who gets third place in the 2011 Rugby World Cup tonight.
Former All Blacks flanker Josh Kronfeld was part of a losing bronze final against South Africa in the 1999 Rugby World Cup.
He found it difficult to recall the result of that matchup and said which team came third and fourth in a Rugby World Cup was irrelevant.
"It's a bit of a waste of time. Nobody's really into it. They get the money so that's something... but most guys just want to go home or go sightseeing.
"Whether you're third or you're fourth is irrelevant."
Kronfeld said he had wanted to play in the 1999 bronze final - partly to show he still deserved his place in the side.
But in the modern era, where squads change from match to match, it was difficult to see the game as anything more than a "money spinner", he said.
"I can't imagine it's anything else.
"It's in the psychology of a sportsman to find a way to get up for the match but afterward you just think what the hell difference did it make."
He said about half of the Welsh players taking part in tonight's matchup against Australia wanted to get on with touring New Zealand.
"They just want to go travelling. This is a difficult match to get yourself hyped up for."
However, former All Blacks winger Inga Tuigamala said taking part in a bronze final was a positive experience."
He assured his spot in the 1992 All Blacks side with a good performance in a 13-6 win over Scotland in the 1991 Rugby World Cup bronze final.
Something similar could happen in tonight match between Australia and Wales, he said.
"I had everything to play for that day - to make sure I came back for the following year.
"There's still a lot of pride and merit in playing for your country. I'm sure 99.9 per cent of them will get up for it."