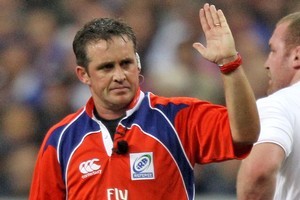 Playboy South Africa is offering a subscription to anyone who sign an online petition calling for an investigation into Kiwi ref Bryce Lawrence's Rugby World Cup quarter-final performance.
Lawrence was slated in the republic for his October 9 performance, with many considering the New Zealander responsible for the Springbok's 11-9 quarter final loss to Australia.
Playboy SA is offering every signatory of an online petition a free three-month digital subscription to magazine.
The petition calls for the International Rugby Board "to open a formal and transparent investigation into circumstances related to the officiating" of the match.
"It is the IRB's duty to conduct a detailed investigation into the actions of referee Bryce Lawrence, whose actions seemed to indicate that he deliberately and intentionally influenced the outcome of the game in the favour of Australia," the petition reads.
"South African rugby supporters have the right to know whether the outcome of the match was predetermined and, if so, who orchestrated and benefited from the outcome of the match.
"Given the widespread allegations of match-fixing following the said match, it is the IRB's duty to prove to rugby supporters across the globe that there was no match-fixing."
A Playboy SA spokesperson told the South African Press Association there had been "a few female signatories got their knickers in a knot" following the offer, but said most were supportive.
The Facebook page entitled "Petition to Stop Bryce Lawrence Ever Reffing a Game Again" has just over 82,000 signatures.
- HERALD ONLINE